A businessman goes on filling marshlands in Hendala with political backing as houses go underwater and roads become impassable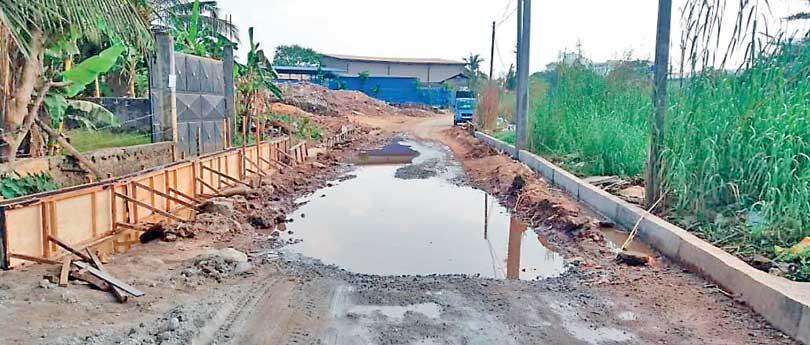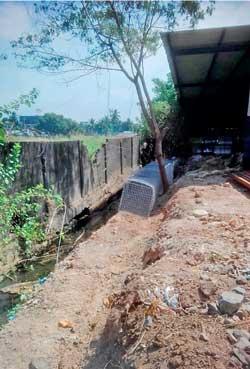 By Sarath Chinthaka
Many marshlands and paddy fields were being reclaimed in Hendala, Wattala, with soil and garbage, Wattala residents said.
"The person is said to be a cousin of a powerful politician in Wattala," the source said.

Residents of Hendala said that they had faced many difficulties and health risks due to this matter.
"He has so far reclaimed two marshlands in Ela Iwura Road in Hendala and has also reclaimed a large extent of waterways including Depa Ela through which water flows to Kalu Ela. Therefore, Hendala now faces flooding risk during rains," a resident said.

They said that the man had been recently engaged in reclaiming a marshland in Daya Road in Hendala and had temporarily stopped it due to protests conducted by residents.

After receiving complaints from the residents, the Wattala Police had taken into custody a lorry loaded with soil and a backhoe loader.
The Ela Iwura Road has also sunk due to the transporting of soil using tipper trucks and the road has become impassable.
They said that the man earned money by obtaining contracts to reclaim marshlands and paddy fields from people who are unable to reclaim them.

No legal action has been taken against this person by any institution and the residents expressed their grief over this.
The former President of the Association of Residents of Cherry Land Housing Complex situated at Ela Iwura Road, Ranjan Kannan said that they had been affected by that issue for years.

"We could not invite an important person home since people had to pass the area where it is filled with soil. There is an unpleasant smell in the area emanating from garbage and those waste materials are burnt at night causing sand particles to fall on to our houses," he said.

He said a former Councillor of Wattala - Mabola Urban Council discreetly unloads waste material every night and recently he was caught red-handed.
"We video recorded him unloading garbage and showed it to a Sergeant in the Environmental Unit of Wattala Police. It has been six months but no action has been taken against him. Since soil which is brought here is mixed with garbage, bags of remains from butchers are also brought along," he said.
"A considerable number of school children walk along this Ela Iwura Road. Not only school children, but even other pedestrians cannot walk along this road since the road has become muddy. During rainy days, the garbage dump is washed away to the road. When we travel on those roads, we carry them to our houses. This businessman, with political backing, continues this work ignoring protests of the people. No one has proposed solutions to this matter. Only the President can give a solution to this issue. We humbly beg him to arrest this businessman and enforce the law," Kannan said.

Commenting on this issue, Wattala Pradeshiya Sabha Member and member of the Environmental Committee in Hendala, Randika Range Bandara said that he had been talking about this issue ever since he was appointed to the Pradeshiya Sabha.

"Soil and garbage are brought to reclaim marshlands and paddy fields. Recently, the cousin of this particular politician was seen reclaiming a marshland on Daya Road in Hendala. That was stopped due to protests demonstrated by the people. This politician was engaged in illegal reclamation activities of many lands both during the UNP Government and the current government. We informed Geological Survey and Mines Bureau and the Land Development Corporation about the reclamation of Daya Road. They came and fixed a board which said: "Reclamation prohibited". However, the law was not enforced. This person is making use of non-implementation of laws," he said.
Meanwhile, Secretary to Wattala Pradeshiya Sabha, Wasanthi Wikramarathne said she also had received many complaints against this businessman.
"We inspected lands which are reclaimed by him. He has blocked many minor canals through which water flowed to Kalu Ela and has converted them into small drains. He has closed a 15-foot long Depa Ela situated at No.60 on Ela Iwura Road and is building a wall.

"There is a board on the gate of that land claiming that it belongs to a certain private bank and this wall is being constructed with its gate closed.
"We summoned this businessman to our Environmental Committee. He pledged in writing that he would construct a wall to prevent the garbage from reaching the road and he would fix minor canals to their original status. It has been several months and he has not done anything. We will take legal actions against him," he said.
Niluk Priyal, a member of Hendala Farmers' Association and a resident of 3rd Cross Road, Alwis Town, Hendala said that the businessman reclaimed marshlands and paddy fields with no fear. "No legal actions are taken against him. Due to this reclamation, our houses get inundated during rainy days. On such days, we remain in bed with our children. When he came to reclaim lands on Daya Road, we protested against it.


When we went to the Police, this person threatened us. He said he would reclaim the whole area of Hendala and challenged us to do anything against it. We kindly request the President to take strict action against lawbreakers," he said.
He has so far reclaimed two marshlands in Ela Iwura Road in Hendala and has also reclaimed a large extent of waterways including Depa Ela through which water flows to Kalu Ela. Therefore, Hendala now faces flooding risk during rains