Children of today are not aware of real facts on sex. This is why they fall into various trouble
Parents should spend more time with their children and I appeal to the parents to spend more time with them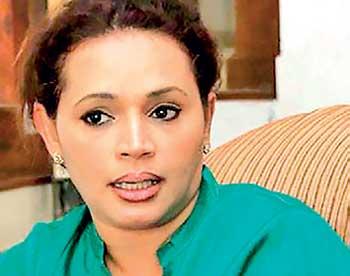 By Yohan Perera and Ajith Siriwardana
It is essential to include sex education in the school curriculum as a subject, State Minister of Tourism Diana Gamage said in Parliament yesterday. "Children of today are not aware of real facts on sex.
This is why they fall into various trouble. Some school children do not know what a social disease is. Some children may be infected with various social diseases without their knowledge as they are not aware of these diseases.

They don't know the symptoms of these diseases," the State Minister said.
"Parents should spend more time with their children and I appeal to the parents to spend more time with them," she added.

Taking a swipe on the comments made about her by SJB MPs, Ms. Gamage said everyone will be able to see the fate of these MPs soon. "I was the General Secretary of Ape Jathika Peramuna. I cannot run a political party if I am not a citizen of this country. In such circumstances the agreement which I got into with the MPs is not valid. Imagine what would happen to SJB MPs in such circumstances," she said.
---
---