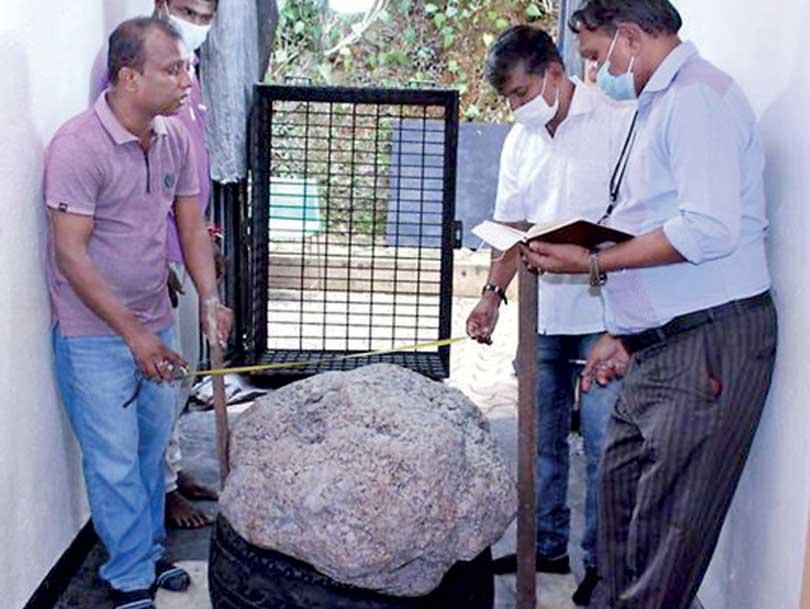 The light blue mixed rock was found in a licensed private mine in the Pelmadulla area about eight months ago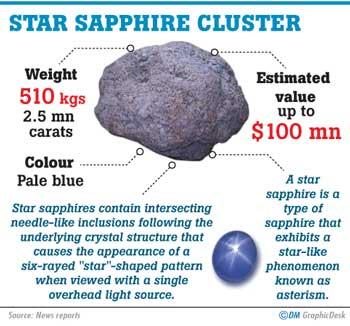 By Ajithlal Shanthaudaya
A gemstone weighing 510 kilograms (2.5 million carats), which is considered to be the largest 'Star Sapphire Cluster' in the world, has been found in the Pelmadulla area in Kahawatta, Ratnapura, Gem and Jewellery Authority Chairman- Thilak Weerasinghe said.
He said that the value of that gemstone belonged to the Coronandum genus and that the star sapphire cluster was valued at more than Rs. 2,000 million.

The light blue mixed rock was found in a licensed private mine in the Pelmadulla area about eight months ago was owned by the mine owner, the Chairman said.

"Aranul is one of the most valuable gems in the world. 99.9 percent of this gemstone is the Aranul gemstone. Countries such as France and Italy were already inquiring about the Arnoul gem group, which was valued at US $100 million (Rs. 2,000 million), "he said.

The Chairman also said that two officials from the Gem and Jewellery Authority's gem valuation committee could set the price at Rs. 2,000 million. The rock consisted of a bunch of gems that appeared like a bunch of grapes.
The identity of the owner of the gemstone will not be revealed for security reasons. The Chairman said that the gemstone was so large that it can not be lifted by even ten people.

The gemstone of 2.5 million carats has been named the "Serendipity Sapphire".
The Chairman also said that two officials from the Gem and Jewellery Authority's gem valuation committee could set the price at Rs. 2,000 million. The rock consisted of a bunch of gems that appeared like a bunch of grapes
---
---