Nathasha was arrested by the CID at the BIA on Saturday night while attempting to leave the country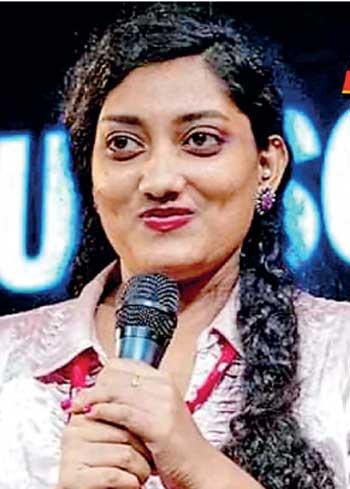 By Darshana Sanjeewa Balasuriya and T.K.G Kapila
Nathasha Edirisooriya, the stand-up comedian who was arrested over her remarks on Buddhism was remanded until June 7 by the Fort Magistrate Thilina Gamage yesterday.
Nathasha was arrested by the Criminal Investigation Department (CID) at the Bandaranaike International Airport (BIA) on Saturday night while attempting to leave the country.
Police Spokesman SSP Nihal Thalduwa said that she was attempting to leave for Singapore when the airport officials stopped her and informed the CID.

On Saturday, the CID launched an inquiry following a complaint that the suspect had allegedly made disrespectful remarks on Buddhist philosophy and culture as well as Christianity during a stand-up comedy show in Colombo in April this year. Later the suspect in a video online publicly apologized for the controversial statement she had made. The video she posted on YouTube has also removed later.

The spokesman said eight complaints had been lodged against the woman to the CID over her remarks. Accordingly, the computer crime investigation division of the CID had made a written request to Katunayake immigration officials to arrest Nathasha Edirisooriya if she attempts to go abroad.

The order was issued following a complaint made by the Commissioner General of Buddhist Affairs to the Inspector General of Police. The woman was produced before the Fort Magistrate after recording a long statement.
---
---