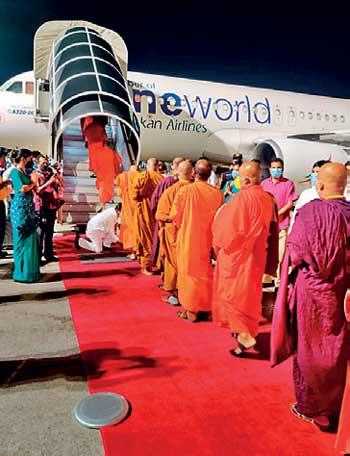 Indian Prime Minister Narendra Modi yesterday inaugurated the International Airport in Kushinagar, India and a Sri Lankan delegation, including 95 Buddhist monks landed at the newly-built airport, marking the first international flight to land there.
The airport is aimed at boosting tourism on the Buddhist circuit, as the ancient city of Kushinagar is the final resting place of Gautama Buddha, where he attained Mahaparinirvana after his death.

"Kushinagar International Airport is the result of decades of aspiration and effort. My happiness is two-fold today. This is the moment of fulfilling a commitment towards the people of Purvanchal," said PM Modi after inaugurating the Kushinagar airport, the third international airport in Uttar Pradesh. Minister Namal Rajapaksa, who represented Sri Lanka gifted a Sinhala version of the Bhagvad Gita to Indian Prime Minister Narendra Modi. It also carries a message from the Sri Lankan PM Mahinda Rajapaksa.

"When Minister Namal Rajapaksa met our PM, he presented to him a copy of the Bhagavad Gita in Sinhala language, in which his father Sri Lankan PM Mahinda Rajapaksa had written a personal message to our PM,'' said Foreign Secretary Harsh Vardhan Shringla, in Kushinagar, the Indian media reported.

Speaking at the event Rajapaksa said, "It gives me great pleasure and honour to be on the inaugural international flight to Kushinagar on the auspicious day of Vap Poya Day.

I recall it was Indian PM Modi who suggested to the Sri Lankan Prime Minister during the Virtual Bilateral Summit with Sri Lanka in September 2020, that 100 members of Buddhist clergy must join for the inaugural flight to Kushinagar operated by Sri Lankan airlines. It's an honour we will cherish for years
to come."