Most of those who died of Covid-19 were people who had not been vaccinated or those who were yet to receive their second dose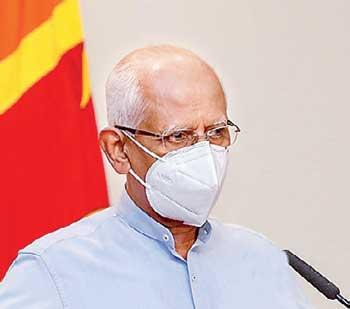 By Ajith Siriwardana
Claiming that the government was concerned about the increase in the Covid-19 deaths and the number of positive cases, Adviser to the President Lalith Weeratunge said yesterday that the matter would be taken up at the Covid Task Force meeting headed by the President today.
He told the media briefing at the Presidential Media Centre that it was reported that most of those who die of Covid-19 are unvaccinated people or those who are yet to receive their second dose. He said this matter will be taken up at today's discussion with the president and attended by all stakeholders including the health sector officials. Responding to a question, he said steps would be taken to obtain records of unvaccinated people through the respective Grama Niladhari Divisions after one and half months. Mr. Weeratunge said the Government had spent approximately US$65 million for the vaccine procurement process so far.

He said all the people above 30 will be vaccinated before September 15 and added that the government was ready to vaccinate those below 30 as the second phase after completing the vaccination of above 30.
Mr. Weeratunge also said children between 12 and 18 years old will be vaccinated soon after a suitable vaccine was recommended by the medical experts. He said that they were hopeful that either Pfizer, Moderna or Sinopharm vaccines would be recommended for the children.

He also said that preliminary work has been completed to purchase the Pfizer vaccine if it was approved for the children. "We have only to sign the agreement. All preliminary work has been completed," he said.
He said there were 4.5 million people requiring vaccines between 12 and 30 years and 11.5 million above 30. Accordingly, altogether 16 million people would be vaccinated. "As of July 28, Sri Lanka had received 10.7 million doses of Sinopharm vaccine and 1, 264, 000 doses of Covishield vaccines. In addition, we have received 180,000 doses of Sputnik and 202,000 doses of Pfizer," he said and added that 98 million Sinopharm vaccines would also be available by the end of August.