Authorities refuse to accept fault
If the NWSDB fails to take appropriate action after receiving a complaint, then the responsibility for the consequences should lie with the Board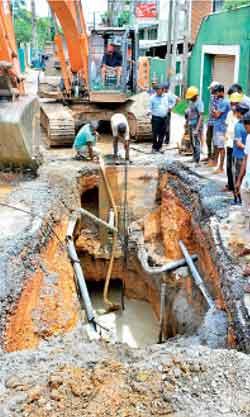 By Chaturanga Pradeep Samarawickrama
Without taking swift action to close or repair the massive rain water-filled sinkhole on Dodangahahena Road in Gothatuwa, the relevant authorities are now passing the buck.
The National Water Supply and Dranage Board (NWSDB) admits that there was a water leak under the road, but claim that it had not been reported to them before the incident.

In response to the incident, the General Secretary of the National Water Supply and Drainage Board Employees' Union (NWSDBEU), Engineer Upali Ratnayake said that the board currently does not have a system in place to actively monitor water leaks. Therefore, any complaints regarding leaks should ideally come from the people in the area or be identified by the Water Board's maintenance crew.

Engineer Ratnayake said if the NWSDB fails to take appropriate action after receiving a complaint, then the responsibility for the consequences should lie with the Board. In case this sinkhole had develop overnight due to leaks and a complaint had been received promptly, the Water Board may not have had the time to address the issue promptly before the accident. However, it is evident that a water pipe had burst underground and had led to the formation of the sinkhole.

In addition, a senior officer associated with the NWSDB stated that the responsibility of repairing the damage lies with the Western Province Provincial Road Development Authority (WP-PRDA).

This highlights the haphazard division of responsibilities among different authorities involved in infrastructure maintenance and repair.
An official from the WP-PRDA said that the responsibility for yesterday's tragedy should be borne by the NWSDB.

The maintenance of the Dodangahahena Road near the Gothatuwa Water Board was handed over to the NWSDB for pipe-laying activities according to the project contract.
The maintenance of the two kilometre stretch was handed over to the NWSDB for pipe-laying activities on April 8, 2021. According to the project contract, the responsibility of maintaining the road had been officially transferred to the NWSDB. Once the project is completed, it is the responsibility of the WP-PRDA to take over the road for carpet laying. This indicates that after the pipe-laying activities are completed the road must be transferred back to the WP-PRDA for permanent repairs and maintenance.
Furthermore, the agreement states that the NWSDB is responsible for temporary repairs to the road.
On the other hand, permanent repairs fall under the jurisdiction of the Road Development Authority (RDA).
This highlights the haphazard division of responsibilities among different authorities involved in infrastructure maintenance and repair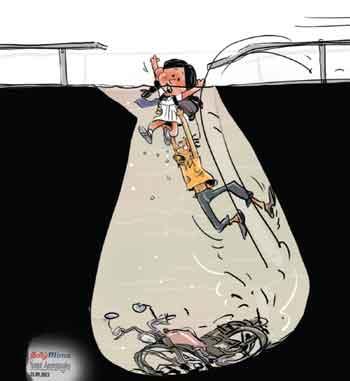 ---
---