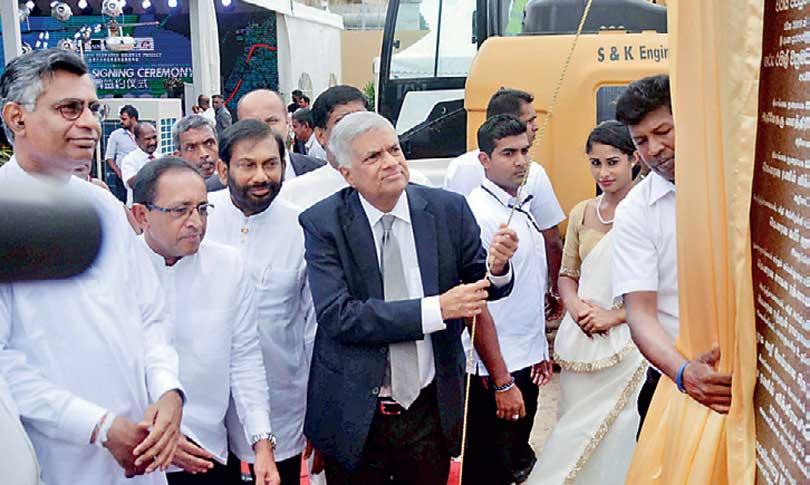 Prime Minister Ranil Wickremesinghe unveiling the plaque to officially launch the construction of Port Access Road. Highways, Road Development and Petroleum Resources Minister Kabir Hashim, Finance Minister Mangala Samaraweera, Power and Renewable Energy Minister Ravi Karunanayake, Primary Industries and Social Empowerment Minister Daya Gamage, Megapolis and Western Development Minister Champika Ranawaka and Justice Minister Talatha Athukorala were present at the ceremony
Pic by Pradeep Pathirana
US$ 300mn Port Access Road to be funded by ADB

Highway to save as much as Rs.397bn per annum

Prime Minister Ranil Wickremesinghe yesterday launched the construction work of the elevated highway, which is to be constructed from the New Kelani Bridge to Colombo Port City.
The construction of 5.9 km Port Access Road and related facilities will be funded by a US$ 300 million loan from the Asian Development Bank (ADB).

The leading construction company of the project is China Civil Engineering Construction Corporation and the consulting firm is a joint institution of three consultancy firms in the United States, England and Sri Lanka.

From the Port city, the expressway will connect to the Marine Drive through the proposed tunnel without interrupting the beauty of Galle Face. With the completion of the Port Access Road, it will take only 4 minutes to travel from the Galle Face to Peliyagoda.
Highways, Road Development and Petroleum Resources Development Minister Kabir Hashim said the elevated highway will help the country to save as much as Rs.397 billion per annum, which is currently incurred due to traffic congestion, and it would make a huge positive impact on the country's economy. Since the New Kelani Bridge will directly connect to the Colombo-Katunayake Expressway on the north side, and extended to Orugodawatta intersection on the south side connecting with the Port Access road, there will be a possibility of travellindg to outskirts of Colombo with no congestion.

Since container freight traffic will be given a new entrance, the congestion on roads mainly around Orugodawatta, Baseline Road and surrounding areas will be significantly reduced.
Also, since the Port Access Road is being constructed at the Colombo Port premises, there will be no land acquisition and disruption to the public.

In addition, the project will enhance the Colombo Port premises by demolishing irregular buildings in the port premises. The construction of a new 17-storey state-of-the-art shipping centre for the Sri Lanka Ports Authority has already been started.

The construction work of the Port Access Road project is to be completed in three years.
---
---