---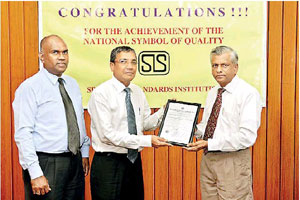 Panasonic, a global leader and i nnovator i n consumer electronics along with Softlogic Retail (Pvt) Ltd the authorized distributor for Panasonic i n Sri Lanka, have added a new dimension in quality assurance by acquiring the coveted SLS certification for their Compact Fluorescent Light Bulb (CFL) making it the only international light bulb in the market to receive the prestigious certification.

As Sri Lanka's most recognized quality measurement standard, the SLS certification is a very significant milestone for t he Panasonic bulbs. It is a substantial step towards excellence as evidence of the company's ongoing efforts to comply with quality monitoring processes and their commitment to continual improvement. The SLS mark also demonstrates Panasonic's promise to consistently provide quality products and services to their customers.
The handing over of the certificate took place on 22nd October at the SLSI head office in Elvitigala Mawatha, with the certificate presented by the Director General SLSI, Dr. L.N. Senaweera to the CEO of Softlogic's Retail Division, Nasser Majeed.

Amila Silva, Assistant General Manager for Softlogic Retail (Pvt) Ltd, also present at the ceremony expressed his enthusiasm at this meaningful achievement. "Softlogic's highest priority is to give our customers the very best" he said. "The SLS certification is a distinct measure we have taken to ensure the trustworthiness of our products and we are hopeful that the SLS mark would boost t he confidence which our valued customers have always placed in our products as we continue to l ook for newer ways, t o serve them better."

Panasonic's energy efficient light bulbs are the first of its kind to receive the prestigious SLS certification in Sri Lanka. It is also the only light bulb in the market to be able to boast a t hree year warranty. The distinguishable spiral bulbs are conquering the market for energy saving bulbs by getting straight to the heart of the world's energy problems as the compact fluorescents emit t he same light as t he classic incandescent but use significantly less energy than their incandescent counterparts, making them an increasingly popular way to cut energy use. In addition, they also deliver on exactly what the consumer has come to expect from a light bulb; their elegant, spiral shape fits into any light fixture and emits a strong, unwavering light that is silently and evenly dispersed.
More importantly, Panasonic's CFL bulbs allow consumers to take that all important step towards joining in the modern green movement by making dramatic energy savings. As Sri Lankans are becoming progressively environmentally aware more customers are opting for eco-friendly products which give long term electricity and cost savings, thereby contributing to the country's sustainability efforts.

Panasonic bulbs are also the only i nternational brand of light bulb to be manufactured in Indonesia giving t hem a slight edge over t heir rival manufacturers. Panasonic's manufacturing plant in Indonesia excels in providing products of exceptional quality having received the globally recognized quality standard in the ISO 9000 certificate which highlights their continued commitment to providing their customers with unequaled quality, performance and reliability.
Softlogic Retail (Pvt) Ltd has been the authorized distributor for Panasonic consumer electronics and home appliance products in Sri Lanka for many years. Their successful alliance continues as Sri Lankan consumers maintain the view that Panasonic is premium and highly trusted brand for consumer durables.