---
Trafalgar, the global leader in guided holidays has launched the much anticipated 2015 Europe and Britain collection featuring a record 117 carefully crafted itineraries with 14 new trips, across 10 trip styles and covering 44 European countries.Travel with Trafalgar and you'll enjoy unique experiences that you will not have access to on your own. Climb Bramante's spiral staircase in the Vatican, normally out of bounds to the general public, or meet Trafalgar's local specialists who'll make each destination come alive with fascinating tales.Trafalgar has created a European programme for travellers that are the real deal - offering real choice, real flexibility and real ease. You'll meet local people, hear their stories, and enjoy their food, wine and culture in a way that brings every destination to life.

Trafalgar has been creating exceptional guided holidays for almost 70 years. Every Trafalgar holiday includes handpicked quality hotels, an expert travel director and separate driver, and more importantly, guests will enjoy exclusive access to selected sights, and avoid queues at major attractions.
Guests can book with confidence as over 70 percent of Europe & Britain 2015 summer trips are definite departures. For 2015, the company has expanded customer choice with different travel styles – regional explorer trips for those seeking in-depth experience for two or more countries, at-leisure trips for those who prefer a leisurely pace and hidden journey trips with smaller groups of 26 or less.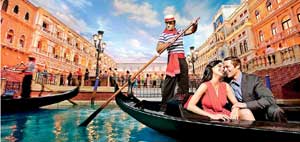 Gabo Travels (Pvt) Ltd has been the General Sales Agents for Trafalgar Tours for the past 20 years.The new 2015 brochures are available at Gabo Travels office and there are several early bird discounts up to 10 percent if you book before the 12Th February 2015, 7.5 percent if you book before the 2nd April and a 5 percent discount if you book before the 14Th May.Apart from the early bird discounts there are many other attractive discounts that travelers can avail themselves to such as second trip discount, young traveller discounts, triple room discounts to name a few.For the launch on the 2015 brochures, Gabo Travels has also tied up with Standard Chartered Bank to offer all SCB cardholders an additional 5 percent discount.