---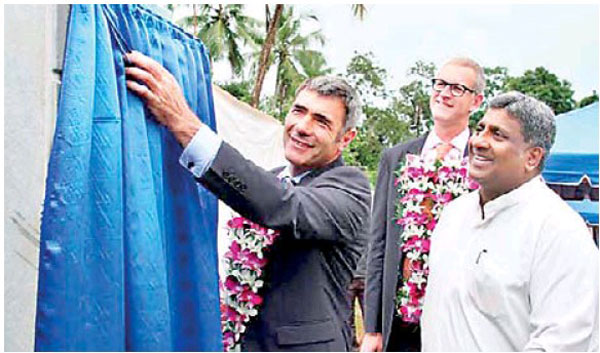 Fonterra Brands Sri Lanka announced it is building a new chilling centre in Gampaha as part of its commitment to growing and developing the local dairy industry in Sri Lanka.Managing Director Fonterra Brands Sri Lanka Leon Clement said the new chilling centre allows Fonterra to begin milk collection in a new region and will support 200 local farmers."We are focused on growing the local dairy industry in Sri Lanka and today's event marks just one of the ways in which we're doing this."The new chilling centre will not only allow us to collect more local milk from more Sri Lankan farmers, it will also see us bring our milk quality and sustainability expertise to the area," he said.

The new chilling centre will include laboratory facilities allowing Fonterra to work with local dairy farmers to evaluate their milk to help improve the quality and quantity being produced. It will also act as a meeting place for farmers where they can attend training sessions with Fonterra's international dairying experts.
The announcement was made at a ceremony held at the chilling centre site. The ceremony was attended by Nathan Guy, Minister of Primary Industries of New Zealand; Prasanna Ranatunga, Chief Minister of the Western Province; Grahame Morton, New Zealand High Commissioner to Sri Lanka; Rear Admiral Thisara Samarasinha, High Commissioner for Sri Lanka in Australia and New Zealand; Senaka Silva, Honorary Consul for New Zealand and. Michael Spaans, Director of Fonterra Cooperative Group, who marked the commencement of construction by laying the first foundation stone.

Clement said Fonterra is actively working to increase production, improve milk quality, lift farmer incomes and support local communities in Sri Lanka.
"As a farmer owned co-operative we are built on generations of dairying expertise and our focus is on sharing this dairy knowledge with local dairy farmers through our intensive training programmes delivered by a dedicated team of dairy experts. These experts work with farmers to improve milk production and quality, ultimately leading to improved incomes for these farming families.

"Initiatives like this are all aimed at growing and developing the local dairy industry and we have plans in the pipeline to significantly step up our contribution. This includes investing in model farms, increasing our investment in farmereducation and development programmes and increasing our own local milk collection," he said.Clement also commented that Fonterra is also committed to supporting local communities where it operates.

"We are committed t o providing dairy nutrition, nutrition education and supporting key projects that enrich quality of life in communities where we collect milk.
"Part of this is the launch of the Fonterra Grass Roots Fund which provides funding for community projects that will have a positive social, economic or environmental impact on local dairy communities," he said.The first project to be supported by the fund was a water and sanitation facility, built at a rural school in Hanwella earlier this year.
This announcement also supports the Dairy Cooperation Arrangement between the New Zealand and Sri Lankan Government that was signed last year. The New Zealand Government is working together with a range of partners including Fonterra to support the growth of the Sri Lankan dairy industry.