---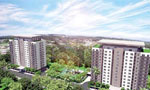 Fairway Holdings launches Fairway Galle, its latest vertical living development project in the heritage city of Galle.
Fairway Holdings, a in the field of luxury high-rise development, having introduced many 'firsts' in luxury vertical living solutions, has embarked on its latest venture - Fairway Galle.
Set in the historic city of Galle, boasting of a heritage spanning over three centuries, Fairway Galle is located on the exit road to Galle from the Southern Expressway in close proximity to the city itself and a myriad of significant historical attractions as well as a wide array of other recreational activities.
Fairway Galle combines convenience of contemporary living with the quaint charm of this southern coastal city. Equipped with all modern amenities, Fairway Galle is located in close proximity to some of the most popular beaches of the south such as Unawatuna, Thalpe and Hikkaduwa, whilst the beautiful beaches of Matara andleaderthe Mirissa are just a short drive on the highway. Blessed with pristine golden beaches, spectacular coral reefs, a breathtaking array of marine life and friendly and helpful locals, Sri Lanka is well known all over the world as a beach destination.
With a vibrant culture to accompany all this vivacity as well as a fascinating history, the beautiful town of Galle along with its rich Colonial heritage has an old world charm that is all its own. With a multitude of water sports and a large array of tourist attractions scattered across t he region, t he unique town of Galle appeals to both the adventurous as well as ardent enthusiasts of culture and heritage.Ideal as your home, a second home or even as a prudent investment in this city that harbors a UNESCO world heritage site, Fairway Galle will consist of two 12 storey buildings and is due to be completed during the first half of 2017. It features four types of two and three-bedroom apartment configurations. The common amenities i nclude a swimming pool, indoor and outdoor gymnasiums, clubhouse, tennis courts, squash court, jogging track, activity room, kids play area, vast spaces of landscaped gardens and a helipad. An 'Open Day' is planned for December 7, where all potential homeowners are welcome to visit and reserve their apartment at site with a deposit of just Rs.100,000.

The team from Fairway Holdings will be at hand t o assist you with specifications and plans. A team of bankers will be available on the day at site to assist you with financial solutions if required. More information can be obtained by calling 011 7 586 586.

Fairway Holdings is a sought after leader in the luxury high-rise development industry offering innovative luxury vertical living solutions along with a myriad of other lifestyle services. Among its other high-rise projects are the Fairway on the Waterfront (ICTAD Award for Construction Excellence in 2009), Fairmount – The Urban Oasis (ICTAD Award for Construction Excellence in 2010), SkyGardens and The Elements (expected to be finished in the first quarter of 2017), all of which are located in the fast developing downtown area of Rajagiriya.Fairway Galle is its fifth highrise project and the first project to be launched outside Colombo.