---

The Women's International Shipping and Trading Association (WISTA Sri Lanka) recently held a breakfast meeting for its members followed by an inspirational speech by Inland Revenue Commissioner General Kalyani Dhahanayake.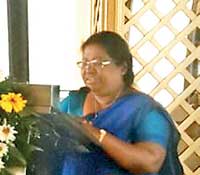 The prime objective of WISTA is to encourage female representation in maritime and related industries. The fraternity focuses on inspiring female university graduates and school leavers to enter into this male-dominated industry by assisting in securing appropriate jobs, mentoring and coaching female employees and also supporting females to gain jobs in operations of ships, such as gantry operators, pilotage and ship crew.
Striking a work-life balance is a challenge for women in shipping; the jobs in maritime require participation in networking events, extended working hours, travel overseas to meet principles/customers, engage in work groups and projects and participate in overseas conference calls, which take up their personal time. Therefore, WISTA strives to support these women, contending to reach the helm in the business world while nurturing the next generation of leaders as young mothers.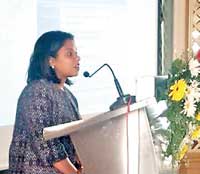 Dhanayake in her speech shared how she has reached the helm of a government institution, an entity known for its revenue generation to the government. She shared her career journey with the members, mentioning the personal sacrifices made, her investment of time and money in education and professional qualifications. She imparted her knowledge on tax, techniques on tax management and clarified to the membership the impact of the recent changes in the tax laws, particularly to the maritime industry.
Aligning themselves with the season of giving and sharing, WISTA membership had extended an invitation to the Sri Lanka Ports Authorities' first-ever female gantry crane operators, in order to promote and empower women of all levels in this industry.
It was a fun-filled morning with games, quizzes, brainstorming activities along with knowledge-sharing, though-provoking agenda items. The members networked amongst their colleagues of the shipping industry in a spirit of seasonal festivity.
WISTA is an international networking organisation for women at management level involved in maritime transportation business and related trades and acknowledged as a professional and highly reputable shipping organisation with focus on improving levels of competency in the shipping industry. WISTA has over 1800 members in 33 countries and pursues and supports the creation of international business relationships among WISTA members.