---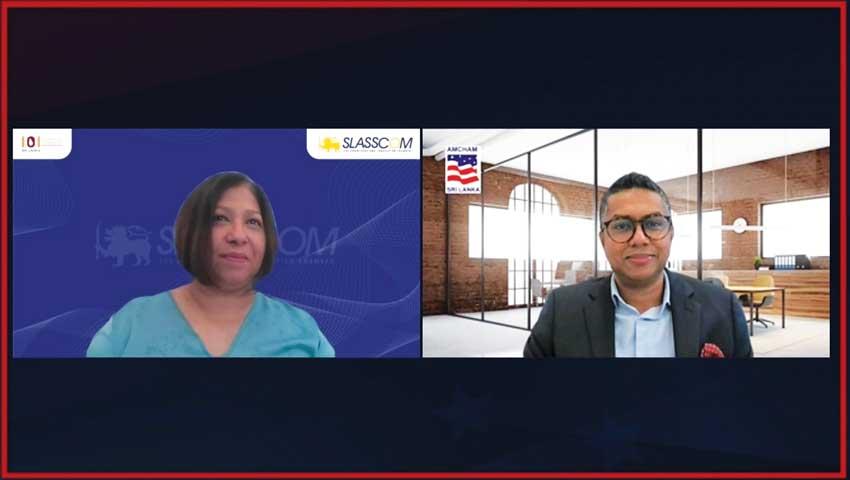 SLASSCOM Chairperson Sandra De Zoysa and AMCHAM President Presantha Jayamaha at virtual signing
Riding on the previous initiatives of the chamber that have helped local corporates gain footing in several geographies like Australia, Europe and the Middle East, the Sri Lanka Association for Software and Service Companies (SLASSCOM) recently took steps to introduce Sri Lankan companies to the US market by signing a Letter of Collaboration (LOC) with the American Chamber of Commerce in Sri Lanka (AMCHAM).

Signed by SLASSCOM Chairperson Sandra De Zoysa and AMCHAM President Presantha Jayamaha, at a virtual event, the LOC covers a range of deliverables around the main objective of linking the Sri Lankan and US IT/BPM markets and thereby facilitating companies and investors in both countries to collaborate and explore that would result in mutual outcomes for
both countries.

Some of the main deliverables highlighted in the LOC include promoting and facilitating market access, trade, investment and joint ventures between the US and Sri Lankan IT/BPM sectors and jointly developing strategies and marketing campaigns to promote such collaboration. It also includes promoting collaboration between start-up ecosystems in both countries.

Further, both SLASSCOM and AMCHAM will share resource persons for each other's events, including the promotion of such events among the membership of each partner. The members of both chambers will work together and tap into their respective networks of professional and industry contacts to support
mutual objectives.

The partnership will also focus on several key areas, including an exchange programme for companies to scale up and the initiation of a start-up ecosystem linking the US and Sri Lankan start-ups.

AMCHAM has always positioned and established itself as the source of information, knowledge and access to local businesses to the US market. Banking on robust networks with several chambers of commerce in the US, the chamber is keen on developing bilateral trade in the IT sector.

"The local IT sector is the second largest exporter to the US from Sri Lanka, with massive growth potential. We want to help promote collaboration to support the Sri Lankan tech and BPM businesses by growing trade and commerce opportunities between the two countries," shared Jayamaha.

"The US is a prime market for Sri Lankan IT/BPM companies and we see vast potential for growth in the US, based on discussions and feedback from our members, which is what led us to look at this great partnership with AMCHAM. I have no doubt that working in tandem with a reputed chamber like AMCHAM will give us headway into growing this market and result in mutual benefit," stated De Zoysa.

The MoU signing was attended by several members of both chambers, including AMCHAM VP Sanjeeva Abeygunawardena, Board Member Nilupa Kiringoda and General Manager Vrai Raymond and SLASSCOM Vice Chairman Ashique M.Ali, Director Operations Nuwan Perera and Director Finance Nishan Mendis.

In its role as the catalyst of the Sri Lankan IT and BPM sector, SLASSCOM is focused on enabling local companies to reach global markets in order to increase their market scope and customer reach.