---

he World Health Organisation (WHO) in blazing imagery has described a smoker as "a fool at one end and a flame at the other." During recent decades the Western countries have strictly implemented tough anti-smoking laws – which unfortunately is not regularly done in Sri Lanka, possibly because of the overall breakdown of the Rule of Law.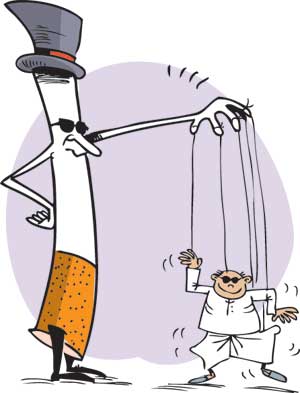 So the Western tobacco giants, unable to make billions from the cancer stick, have concentrated their main sales operations and promotions in Third World countries such as Sri Lanka.

Gone are the days when smoking was successfully promoted as being part of a superstar or a macho image. Yet, the tobacco giants continue to make big profits in countries such as Sri Lanka not only because they pay heavy taxes to the Government. They also adopt more subtle and sophisticated methods as disclosed last week by former Health Minister Maithripala Sirisena, who is now the common Opposition candidate for the January 8 Presidential Election and the superstar of the current political drama of crossovers and crises.

Ironically, a State-controlled newspaper had a newsflash last Thursday quoting the Ceylon Tobacco Company's Chief Executive Officer Felicio Ferraz as saying he does not smoke except cigars sometimes and he does not want anybody to start smoking.

Since he has not yet denied this statement, we can assume that it is true.

If that indeed is his policy and attitude, we hope the tobacco company would follow that enlightened approach instead of inflaming the crisis of a growing number of deaths and diseases due to excessive smoking.

In 2006, with the approval of the National Alcohol and Tobacco Authority (NATA) Act, strict laws were laid down against the promotion of cigarettes and smoking in public places, though in recent years with the growing menace of lawlessness, some of the anti-smoking laws appear to be going up in smoke. After the 2010 elections the new Health Minister Maithripala Sirisena acted fast and wisely to cure this cancer. In an unprecedented move, he obtained the approval of all 225 members of parliament – the supreme body representing the sovereign people – for cigarette packets to carry a graphic health warning covering 80 per cent of the pack. Mr. Sirisena, after his dramatic crossover on November 21 told a group of doctors last week how various forces had worked against his move through legal and backstage political maneuvers.

Mr. Sirisena pledged that if he was elected as Executive President on January 8, one of his priorities would be to impose not just an 80 per cent health warning on cigarette packets – but he would use his executive powers to make it 90 per cent.

Mr. Sirisena also told the doctors he had information that a staggering Rs. 1,000 million had been given to "certain people" to sabotage the implementation of legislation for a National Medicinal Drugs Policy based on the Essential Medicines concept of Professor Senaka Bibile.

As in the case of cigarettes, the absence of NMDP is also killing or worsening diseases for millions of people who are unable to afford highly expensive and often non-essential drugs imported and prescribed under brand names.

The former Health Minister indicated that something similar was happening in the cigarette inferno and we hope both these issues would be properly diagnosed and the disease cured instead of merely tackling the symptoms.

If facts and figures are needed for action, the latest CTC figures provide them. A statement said that in the first nine months of this year, the gross revenue improved to Rs.64.1 billion from Rs.63.8 billion. The net profit however remained the same at Rs.6.6 billion. The company said domestic sales fell 10 per cent due to "challenging market conditions" but the export sales revenue increased by Rs. 145 million. We hope that after January 8, the Government would follow the advice of the CTC's top executive and do everything to educate the fools at one end as to why they should stop smoking while also not encouraging anyone to start smoking.