---

Daniel Carmon, Israel's Ambassador to India and Sri Lanka in an interview with the
Dailymirror

spoke of the shift in the nature of geo-politics, Israels relationship with Sri Lanka and the region, and some of the issues regarding the protracted Israel and Palestinian conflict.
---

Ambassador Daniel Carmon was born in Tel Aviv in 1951. He attended High School in Jerusalem, Istanbul, and Paris, and from 1970 to 1973, served as a Paratrooper in the Israel Defence Forces, where he attained the rank of Lieutenant.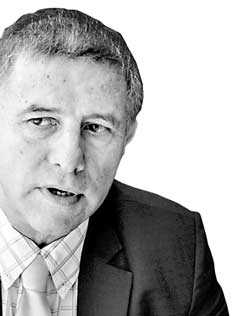 In 1973, he began studies at the Hebrew University in Jerusalem, where he was awarded a BA in International Relations. At the same time, in 1973, he joined the Ministry of Foreign Affairs, where he served in the Communications Division, and then as a Section Head in the same department. From 1978 to 1982 he served as Embassy Attaché in Washington, DC, and member of the Israeli Delegation to the Camp David peace talks (1978), and then returned to the Foreign Ministry in Jerusalem in 1983.

From 1983 to 1985 he served as the Commercial Director of a high tech company, before returning to the Foreign Ministry. Upon his return, he served in the Personnel Division, and then as Deputy Director of the division. This was followed by a posting as Consul and Administrative Officer in Israel's embassy in Buenos Aires, and then on as Deputy Chief of Mission there. In 1995 he was appointed Head of the Situation Emergency Room in the Foreign Ministry in Jerusalem.

From 1996 to 2000, he served as Head of the Information and Internet Division in the Department of Public Affairs. From 2000 to 2005, he served as Head of the Bureau for Coordination, and Director of the Ministry of Foreign Affairs' Director General's Bureau.

From 2005 to 2010, he served as Ambassador and Deputy Permanent Representative at Israel's Mission to the United Nations in New York.

From 2011 to 2014, he served as Deputy Director General, Ministry of Foreign Affairs and Head of MASHAV – Israel's Agency for International Development Co-operation. Additionally, in 2014, Ambassador Carmon was appointed as the Senior Deputy Director-General in the Israeli Ministry of Foreign Affairs.
From July 2014, he serves as Ambassador of Israel to India and Non-Resident Ambassador to Sri Lanka.

Ambassador Carmon has six children – Ariel, Maya, Ofer, Ruthy, Ayala, and Emma. He is accompanied by Ms. Ditza Froim. He speaks Hebrew, English, Spanish, and French.( Courtesy; website of the Embassy of Israel in India)
---

---
"We have always maintained good relationships with this part of the world, but during the last few years we are reinforcing this trend of 'Looking East' for all the good reasons. Some of them are political, some of them have to do with economics - with the emerging world of India and China and Sri Lanka is also a part of this especially with regard to the good developments that are happening in Sri Lanka"
---



Q We welcome you to this interview with the . To start off with, what is the role as you see, that Israel plays in this part of the region and how do you view the future in terms of the role it has to play in this region?

It will be a vibrant role that we would play; we have looked beyond our traditional regions and are viewing the world differently. I won't say it's entirely new, but we have called this 'Israel looking East'. Traditionally Israel concentrated on its relationships with the United States, Western Europe and Canada. We have always maintained good relationships with this part of the world, but during the last few years we are reinforcing this trend of 'Looking East' for all the good reasons. Some of them are political, some of them have to do with economics - while the emerging world of India and China and Sri Lanka is also a part of this especially with regard

to the good developments that are happening in Sri Lanka. We have a very close relationship with Sri Lanka, and have continuously had one. The relationship has seen a lot of good co-operation, a lot of goodwill. This was described in good detail by the Foreign Minister who was the Chief guest in the recently held celebrations of our National Day. He reminded us that Israel is a friend and Israel has always stood with Sri Lanka during the good times and the bad.


Q It is interesting that you say this Ambassador, because Sri Lanka was one of the nations which did not recognize the sovereignty of Israel until much later since its creation. How has the relationship evolved from thereon?

You are reminding us of something that happened in 1947 which is a long time from now. Sri Lanka gained its independence in 1948 and was not in a position to recognize Israel during its creation in 1947. The world was a different world at the time, it is re-merging from a very painful second World War, and since 1947 to this day the world has seen many changes. The world comprises of close to 200 countries, the Cold War is over. The geo political stand is very different today from what it was at the time. Things have changed a lot from the hostile international attention that we enjoyed or did not enjoy at the time. We have reached peace treaties with two of our neighbours, Egypt and Jordan. The configuration among countries have changed and the world is a more 'flat world' than it was. There is more inter connectivity and more identification of interests. More flow of political and economic acts, there is a higher flow of people among countries. I think the identification of joint interests is very different from the 1940s . You see this in the emergence of new kinds of relationships. As I told you before, we were reminded by the Minister who represented the President at the National Day event that although there were many things that were going on between Israel and Sri Lanka, we were with Sri Lanka during the good days and the bad - and I am quoting something that was said in public by your minister, and I know the people of Sri Lanka know this. So I would like to distance myself from the initial years, and I know that Sri Lanka had an obligation to the Arab world. I don't see a conflict between the two, you can have good relations with the Arab world and good relations with Israel and nothing will happen. On the contrary it will be beneficial to the country and this is very important. One does not come at the expense of the other.


Q One of the issues that came out in a recently published book written by, I believe, a Mossad defector was that Israel turned the Sri Lankan Army as well as the LTTE during a certain time. Are you aware of this?
No I really don't know what you are talking about.

---
"We have always maintained good relationships with this part of the world, but during the last few years we are reinforcing this trend of 'Looking East' for all the good reasons. Some of them are political, some of them have to do with economics - with the emerging world of India and China and Sri Lanka is also a part of this especially with regard to the good developments that are happening in Sri Lanka"
---



Q At one time there was this programme you've had with the Sri Lankan government with regard to agriculture. Does that sort of programme continue?

Israel is and was a development laboratory. We started our country from scratch after gaining independence from the British in 1948. We had to absorb millions of people from abroad, who came back to their historical homeland. We had to start caring for our citizens food security, water scarcity which is tremendous in our country. New irrigation systems, research and technology, all this had to be conquered so to speak and we did it. We have now moved from a developing country, to a developed country. We have some of the best technologies in the world and anything from the recorder you are using to the smart phone there are a lot of Israeli ingredients in it. In defence and security we have become experts out of necessity, out of the experience we had to confront our surroundings. We decided later to share this with our friends and Sri Lanka is one of the countries, which have contributed to the large array of countries who are for over 57 years now who are sharing the experience of Israel in the spheres of Agriculture, women empowerment and health. We have training facilities that are going on both in Israel and Sri Lanka. I would guess that among the 280,000 people who have benefited from this kind of programmes over the last years there were a few thousand from Sri Lanka. As late as last summer there was a delegation from Sri Lanka who went for training in Israel. Even last week a delegation from the Lankan Chamber of Commerce visited Israel to participate in an agritech summit and conference, which is one of the biggest agricultural summits in the world. Next October there is a summit on water and I believe that a high level delegation will visit Israel and see what Israel has to offer. I hope they will take something back home from these in terms of capacity building, looking at ways in which Israeli technology can be adopted in your home country and looking at ways to foster these relationships into commercial needs as well. Israel does not have any rain, but we don't lack water- that is because we have developed technology to ensure that our people would not suffer from even a drop of shortage of water, and this goes with technology. I visited the big city of Chennai a few days ago and saw how I million people, almost 8% of the population in Chennai enjoy drinking water through the Israeli plant. You will find such technologies in agriculture, in fertilization, irrigation and post harvesting among others. All of these disciplines are disciplines in which we have a lot of experience and Sri Lanka is also on the list of countries that we wish to share these experiences with.



Q I think these facts are appreciated by everyone, but there is still a lot of suspicion among many regarding the covert activities of Israel. One such notion that prevailed in Sri Lanka over the past two years is attributing the rise of extremism in the country to a trip that some of those involved in these acts took to Israel. What do you have to say to this sort of allegation?

I really frankly don't have any idea as to what you are talking about. I know that from time to time things are published in the newspapers, like those which sends you back to Hollywood or the sci fi movies. But I really don't know what you are talking about.


Q There has been a lot of discourse in the recent past regarding the Israel - Palestine issue. What exactly is the current status of this issue?

A; The Israel Palestine issue is an issue that has the attention of many parts of the world and sometimes there is a sense that this attention is disproportionate, ignoring the other hundreds or thousands of conflicts the world is witnessing beyond the Israel- Palestine issue. Nevertheless this remains a conflict that has not been solved. It's a conflict that has taken place in one of the most sensitive geographical spots in the world. I want to stress that it is a conflict that goes back in time and cannot be solved instantly. Both sides have a lot of expectations from the other side, and since the beginning of the 90's we have had some kind of a political process with the Palestinians. The first step out of this were the peace treaties we signed with our neighbours, we have also signed an interim agreement with the Palestinians, but these timetables were not met because there were too many obstacles on the way which are yet to be crossed. Some of those obstacles are the fact the Palestinians during that tim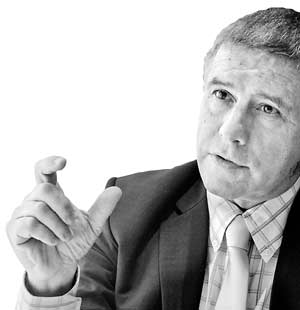 e used terrorism. There are distortions, and distortions unfortunately will exist. There was a feeling that through international pressure the stand of the negotiators will change, but I have to tell you that the stand of Israel will not change, because of international pressure. We respect the United Nations, but resolutions being passed in the UN will not affect the stand of Israel. It's the two sides that have to sit down at the table and it is they who have to negotiate because it is they who are affected by this. Now peace will be attained in due time but there are stumbling blocks. The most recent stumbling block is the Palestinians incitement by the Palestinian Authority. Yes they have abandoned terrorism but we still suffer from hatred against the Israelis in the Palestinian media. The other is the so-called agreement reached between the Palestinian Authority and Hamas. Hamas is a terrorist organization dedicated to the destruction of Israel. As I said before the first and foremost priority of the Israeli government is security of its citizens and then peace. So yes there is a process with many ups and downs, yes the Palestinian authority could be a partner, it has to make sure that very basic conditions of the international community are met - recognition of Israel , relinquishing terrorism and abiding by the agreements we already have. Unfortunately the Palestinian Authority does allow incitement and unfortunately they are liaising with a terrorist group. I still believe that we can sit, without pre-conditions with our Palestinian neighbours, we are very close neighbours- if you visit Israel you would see that Jerusalem and Ramallah are five minutes from each other. You could see Ramallah from Israel and it's not another world. The societies are intertwined, we have so many things in common but it's a very complicated situation. Those who want to make peace, our friends, must ensure that we sit around the table and discuss and not go to New York or get someone to tell us what to do. We should tell ourselves what to do.


Q There is a specific topic in the area of Public International Law about ' Israeli Exceptionalism', which describes how Israel has conducted itself above the norms of International Law. We recently saw the pilots of your airforce saying how they targeted civilians during one of the recent conflagrations. Why does Israel resort to this sort of behaviour?

Forgive me for saying this but you have based your question on erroneous thinking. Israel is not above International Humanitarian law by any means. The battle grounds have changed, I deny wholeheartedly that atrocities were committed. Israel has a very sensitive and renowned judicial system and Israel is the first to check if there is an allegation. We do this for our own sake and not because there is pressure to do so. We do not do this for the media, we do it because it's a Jewish value, because it's a democratic value. War is not a nice thing, when you are obliged to defend your citizens, when you are obliged to protect your citizens who are attacked by Hamas using their own humans as shields breaching all kinds of international law or decency. Then you do whatever you should do as a free and democratic government, the world has to take into consideration all these facts. It should not be confined to the discourse in theory and you as an expert would know this. The world has mastered many years ago the issue of Human Rights which is respected, but the world has not mastered or debated yet the change in battlegrounds. Today the battle is not between armies. Its an asymmetric battleground. Sri Lanka has suffered from terrorism and you would appreciate what I'm telling you. The other side - the terrorists, know that they are immune to the Law. There is no legally binding mechanism that deals with the asymmetry of warfare nowadays. It's not an Israeli-Palestinian conflict now, it's between Israel and terrorists and we are the pilots in highlighting the gaps in dealing with it. The International Law has to have the courage to really deal with the fact that today's battle ground has changed without prejudice. The ISI, Boko Haram, Hamas or Hezbollah have to be dealt with in a different kind of way and once this is understood you wouldn't believe in the nonsense that you have believed through the media which instead of appreciating the caution our people are taking not to harm civilians, I'm sure that you would appreciate that the caution we are taking is much more than any other such asymmetric conflict situations in other parts of the world.




Q Dr. Normal Finkelstein, Noam Chomsky and even the former President of the United States Jimmy Carter all hold views completely opposed to what you just told me.


Which President?


Q Jimmy Carter the former President of the United States; How do you reconcile these views with what you have just told me?
I don't have to reconcile anything. We have our own ideas and they have theirs. I don't see any reason as to why I should debate this in the Sri Lankan press. They have their ideas and I have my ideas on their ideas. The agendas that Mr. Chomsky is representing is his right to do so. He could sit where he is sitting somewhere in the United States and has the right to say what he wants. If he would be a citizen of Israel and would be subject to the fierce attacks of terrorism endangering his well-being and safety, I hope his reactions would be different. But he is sitting in another place, I don't exactly know where, but somewhere in the United States and he is entitled to his ideas which I don't adhere to or agree with.