---
One faction loads itself with goodies; the other has to manage with crumbs


n our society, a large majority of citizens have suffered endless hardships, discrimination, injustice, neglect and even ill-treatment. If perverseness is another cause for most of the problems and curses in our society, the politicians and bureaucrats should open their eyes even belatedly. Aren't they responsible for the present predicament? Shouldn't they save our nation by remodeling their behavior for the benefit of our own children and even the unborn without being egocentric?
A large majority of politicians think they are an exclusive class of people. They love to be identified by their dress and surrounded by body guards. They want to be dressed in immaculately white national costume. Aren't they class conscious? They have gone on and on for decades having widened the gap further and further and looked after themselves.
If someone unwraps one of them and remove all the clothing, we could discover their true nature. Did they create all the differences by all those external wrappings? Aren't the citizens and politicians both alike underneath?

If we need to achieve sustainable development and economic growth, our leaders need to cultivate the mentality of those successful leaders, who have unwrapped themselves. Politicians must therefore necessarily learn how to set the best example. Politicians determine policies. They are responsible for the citizenry for their policies. Implementation is delegated to the bureaucrats. In our country, both politicians and the bureaucrats have failed to develop and enhance capacity to implement successful policies and deliver public goods and services to meet the expectations of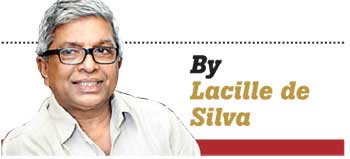 citizens. They must stop competing with the citizens because they pay for their bread and butter. Citizens are their masters politicians are the servants. Shouldn't they treat every citizen kindly with respect and compassion? "Hurt not others with that which pains yourself"- the Buddha.
We must understand that the primary cause for existing tension lies in the unfair distribution of the resources of the country. Shouldn't we eliminate dangerous tensions by invoking the common sense of everyone to bridge the gulf between excessive riches and excessive poverty? All parliamentarians have always been unanimous when their payments have to be increased. They have similarly ensured their pension benefits are also well protected. After they increase their own salaries, simultaneously, those in retirement too get their pensions increased automatically.The Parliamentary Pensions Act has provided that MPs are eligible to draw pensions after a single term-a period of five years. Furthermore, it is a non-contributory unique pension scheme. In the case of public servants, not only they need to contribute monthly, they got to wait until their retirement.
Since the 1980s, security vehicles, security personnel from the Police and Armed Forces had also been assigned to MPs at massive costs to the public. Their wives, children and relations too use security men – a status symbol too. This no doubt is an unbearable burden to the government.All of them run on government fuel.Parliamentarians however continue to enjoy these privileges although the war is no more since 2009.Couldn't they have invested these monies in millions and billions to create employment?

Politicians and bureaucrats in India used Ambassador cars for nearly seven decades. They did never had permission to use flashy and expensive BMWs, Benzs or Jaguars. The Ambassador was the official government car and public officials including politicians accepted the great old lady was good enough. Our politicians still continues to use expensive BMWs, Benzs, and Jaguars at a cost to our citizens.
The citizens have the right to know the outcome of the government investments – transparency!In Parliament, there are several dining facilities too where food is provided at subsidised rates. They have also been provided with an array of other benefits such as insurance cover, medical facilities, postal facilities, tires and tubes, telephones, office equipment etc. The Madiwela Housing Complex consists of 120 housing units particularly for outstation MPs. A holiday home too in Nuwara Eliya maintained by Parliament where family members too could enjoy the facilities at extremely low rates.
A senior politician in retirement told me that the biggest handicap for a politician is to lose the official vehicles. It was later revealed the Presidential Secretariat subsequently had appointed him as a consultant with a monthly allowance of Rs. 75,000 and an official car. How clever! Our country had been short of selfless, non-corrupt, and committed leaders. James Liebig intoned "the virtuous leader lives". Virtuous leaders are persons of honesty, integrity, and trust. Virtuous leaders are also people who are mindful about the needs and realistic aspirations of others in society.
Time has now come for our party leaders to stop giving nominations to corrupt murderous and dishonest people. An assurance given had however been dishonoured having entered in to an agreement previously. Existing political culture do not promote "politics of virtue". Citizens have now begun to question whether the present leadership could genuinely ensure positive social re-engineering process as promised.

Citizens too must be blamed for electing "non-virtuous leaders" to represent them. Owing to this, discipline had further eroded. Economy had nearly collapsed and elected representatives not knowing that politicos have dragged the country to travel in darkness during broad daylight in speeding limos with lights on and a motorcade comprising bodyguards inconveniencing the general public. We do not see these situations in developed countries.
where most politicians drive their own vehicles. I have also seen them travel by bus and train- public transport. Shouldn't our parliamentarians also lead humble and simple lives without depending on the government to provide everything free? Philanthropy – a Greek term directly translated means "love of mankind" and it seems to be really Greek to many of our politicians.
If our parliamentarians decide to use public transport to travel, they would no doubt take steps immediately to develop public transport systems.
It has come to light that expensive bullet proof vehicles too have been allocated to politicos even without the assessment of security threats those politicians faced. The present government during the election campaign pledged that they would go all out to eliminate waste, corruption and there there will be no top-heavy government. They argued state funds had been wasted with a large number of ministers.

During the election campaign, it was also assured that the vehicle permits will be scrapped. If we need to take this country forward, I have no doubt we need to change our political culture. Indian Prime Minister Modi had said - "Good governance with good intentions is the hallmark of our government. Implementation with integrity is our core passion".
The most challenging job now is to find politicians who are essentially honest, truthful, and committed to create employment avenues, enforce the law and provide access to justice and rights. Now that the war with the LTTE has ended, shouldn't citizens be provided with healthier, neater and cleaner environments with necessary facilities for their housing, health, education and transport in a peaceful and harmonious atmosphere? Peace and harmony in the family and in society are important to bring up good children. Shouldn't the poor be given good drinking water, better social relations, adequate and nutritious food? Can the Sri Lankan public sector find ways and means to improve the efficiency and effectiveness to meet these increased expectations of their customers, citizens of this country?
"Citizens too must be blamed for electing "non-virtuous leaders" to represent them. Owing to this, discipline had further eroded"

Unemployment in our country is very serious and it aggravates poverty. Having ended the war, the people now need lawfulness, employment, justice, fair play, equal opportunities, security, sound medical facilities and support in old age. Poverty has created people who are socially powerless and antagonistic. If the government means business, shouldn't they take steps to provide citizens with the material, physical, social and security dimensions – the fundamental aspirations of any human being?
The promises given to people prior to the elections are yet to be fulfilled. I even wonder whether the promises were a little too excessive. Nevertheless, issues of poverty and raising the basic standards of living should not be postponed for any reason. All what we hear is a majority of ministers doing what is contrary to the promises in a Yahapalana government. The President and the Prime Minister should not leave room for the people to lose confidence in them. Most of the steps taken by the government in order to rectify various deficiencies, have eventually bounced back on them.
"Correction does much:encouragement does more" – Johann Wolfgang. I have therefore taken up the position that we need to initially increase the effectiveness and improve the performance of the Parliament Secretariat. "India is known for its sobriety and wisdom, balanced and sensible thinking. We need strong institutions and good governance" – Prathiba Patil.
I am not expert enough to forecast or understand why PRECIFAC and FCID cannot be given more teeth, if we genuinely need to rectify the commissions and omissions, to put the country on the right track. I am however happy I have been given n early valediction with or without reasons.