---
There was a time when Sri Lanka was known as a country of missed opportunities. The last time critics said that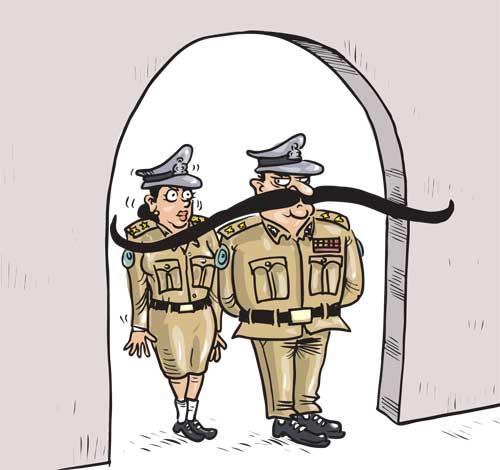 profoundly was when the Government of Sri Lanka failed to capitalist on the tsunami aid the country would have received; due to bad planning and ridiculous state protocol. The same feeling of 'missing' an opportunity crops up when one hears of the issue surrounding the appointment of the first Acting Woman Deputy Inspector General (DIG) of Police . The person in the news these days is Acting Woman Deputy Inspector General (DIG) Police Bimshani Jasin Arachchi.

For the record Bimshani's appointment as Acting Woman Deputy Inspector General (DIG) has been challenged at the Supreme Court by a section of her colleagues. The petitioners have argued that Bimshani's appointment is illegal, made with disregard to existing laws and has also caused irreversible damage to their careers. They challenge that there is no post as Acting Woman Deputy Inspector General (DIG).
May be that this could be the first such appointment in the Sri Lanka Police and it should have been made taking her track record in the police service into consideration.

Despite the matter having ended up in court Bimshani has given several newspaper interviews. When we read her life story it occurs to us that she is indeed a courageous woman and a source of inspiration.
She has said that women are perceived as a 'soft gender' and this thinking needs to be changed. She affirms that members of the female cadre of the Police Department are capable of doing work of males. She says that this is the time for women to forge ahead and change norms.
Before her promotion came she was known for all the solid work she put in at the 'Child and Women Bureau of the Police Department'. A woman being the first to go this long in a career journey must expect stiff challenges; especially in a male dominated department like the Sri Lanka Police.

She must take courage from individuals like Sirimavo Bandaranaike (The World's first woman Prime Minister), Susanthika Jayasinghe (The first Sri Lankan female Olympic medalist), Jayanthi Kuru Utumpala (the first Sri Lankan female to scale Mount Everest), Marini de Livera (Winner of the International Women of Courage Award) Otara Gunewardene (Successful Women Entrepreneur and Animal Welfare Activist) and most recently Asha de Vos (a marine biologist who was adjudged as Sea Hero of the Year by Scuba Diving Magazine).
She must be congratulated for joining the police and making the 'enforcement of the law' her career. She must also be hailed for opting for a career in khaki uniform where opportunities for women to rise is very challenging or nonexistent.

It seems like Bimshani will not give up without a fight. This we say by the comments she has made about her life and times at the police.
A government minister has affirmed that the regime won't allow women to be discriminated against. The fundamental rights petition against her will be taken for hearing on May 18.
Bimshani can smile a bit because she has already got noticed for her work in a 'khaki jungle' where most hardworking men and women habitually go unnoticed.