---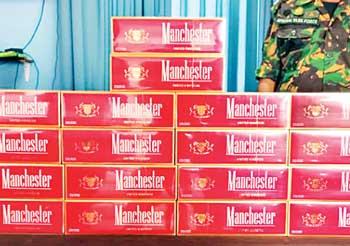 By Kurulu Koojana Kariyakarawana
Officials of the Police Special Task Force (STF) special detection unit seized a stock of foreign cigarettes worth of Rs.611, 000 from Athurugiriya, which had been smuggled into the country recently.

The special unit on the instructions of the STF Commandant DIG Waruna Jayasundara raided a secret location and recovered the contraband along with one suspect.

The counterfeit stock consisted of 9, 400 sticks of cigarettes of the foreign brand of 'Manchester,' the sale of which is prohibited in Sri Lanka.