---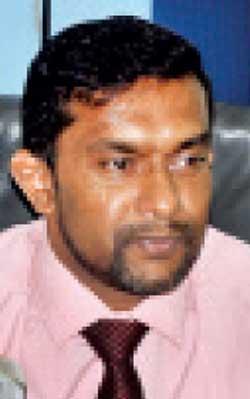 By Dayaratne Embogama - Anuradhapura
The Chairman of Lanka Phosphate Limited, Eng. Anil Ranasinghe said that the company which was operating at a loss for the past four years was able to make a profit up to 93 million rupees in 2020 amidst the Covid-19 breakout due to the dedication of the workers.

He said so addressing a media briefing held at the Eppawala work site of the Lanka Phosphate Ltd.
Commenting on the future work scope of the company, he said that single super phosphate will be produced using the phosphate deposit in Sri Lanka in place of triple super-phosphate which was imported to the country. "Through that production, we will be able to save 8 – 10 billion Rupees of annual foreign exchange. Our company has already laid out preliminary steps", he said.

"We also hope to introduce fertilizer under the brand name Eppawala fertilizer. Sri Lankans will be able to buy fertilizer under a special brand.Even though our company was closed for two months in 2020 due to Covid-19 breakout, we were able to produce and sell 53,000 tons of phosphate which is 15% more than the amount in previous years. Workers and the management of the company worked hard towards that goal. The company had losses in its operations in the previous four years and in 2020 recorded a profit up to 93 million Rupees," he said.
"We expect to increase our current production which is 52, 000 tons to 66, 000 tons in 2021 and 2022. We also hope to produce single super phosphate using the phosphate deposit in Sri Lanka in place of imported triple super phosphate. We will save 8 – 10 billion Rupees of foreign exchange through that. We have already set out preliminary steps.We have brought the company to a new level with the guidance of the Minister of Industries, Wimal Weerawansa and with the dedication of the Board of Directors and other officers of the company. With the appointment of experts for several organizations by the President Gotabaya Rajapaksa, many loss-making companies have become profitable companies, he further said.

"Our company also produces phosphate fertilizer for local agriculture. The imported triple super phosphate cannot be used for short term crops as it does not quickly solve in water. Research has shown that we can produce single super phosphate.Our company hopes to establish factories which produce single super phosphate in the coming years. We have taken steps to commercialize all the research on this. We are also conducting research to improve the solubility of phosphate using micro-organisms. We expect to produce carbonic phosphate by adding values of the research.,"the Chairman said.

"We expect to perform an efficient service in the company by making use of machines preferably for productions and by improving the welfare of the company workers by providing solutions to their problems. The main target is to improve the information technology sector of the company. The company did not have e-mail facilities until recently. After I became the Chairman, even though the head office was closed during the Covid-19 breakout, the officers were made to work from home through e-mails. We could perform office duties efficiently through that. I also created a webpage for the company," he said.

"It has been 50 years since Eppawala phosphate deposit has been discovered. We have planned special programmes for that. The deposit which spans 22 hectares goes down to 318 feet from the ground level.There is a fertilizer mixture plant in Wariyapola which had incurred losses since its beginning. Only coconut fertilizer was produced. We initiated its operations again in December last year and it is now recording profit. We expect to produce other fertilizers as well and to provide them to people", he added.