---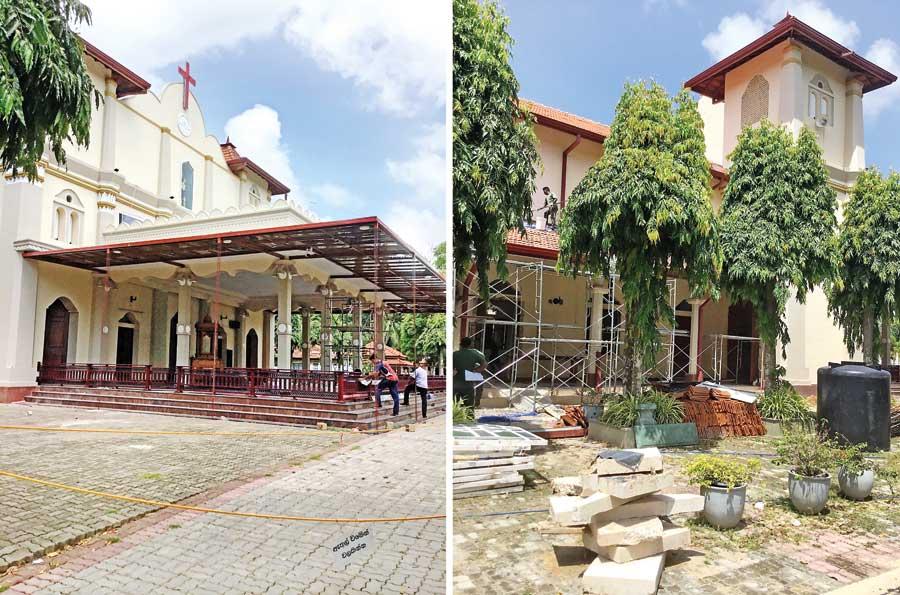 Church rising from the ashes (Left) Church under construction (Right)
An unusual silence hovers around Katuwapitiya on an otherwise busy Friday morning. One cannot expect more from a venue that recently witnessed a horrific terror attack. As we enter the Katuwapitiya Church premises, elegant statues of two guardian angels sit on either side of its entrance, while two Army personnel guard the gates. Inside the premises, Army officers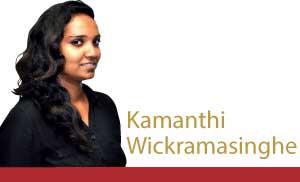 are busy constructing the Church building on all sides while another group is constructing a memorial in memory of those who lost their lives. Shattered pieces of mosaic glass that once adorned the church have been piled up and broken benches on which devotees were praying too await replacements. Inside the church, a new roof has been done with a ceiling and the building looks fresh, even though area residents still recall how they saw body parts lying around. Three months after the deadly attacks, families affected by the blast in Katuwapitiya still need help. While they have lost hopes on the Government, which has made the bombing incidents a political topic, these families are still going through different stages of coping.
As such, the Daily Mirror visited a few of these families to find out how they were doing.
'My daughter and grandchildren never returned for breakfast'
65-year old Theresa Pieris, Anusha's mother-in-law lives next door. It was around 1.00pm when we visited her and had it been three months ago, it would have been the time her grandchildren returned home for lunch. She has lived with her daughter and three grandchildren for the past 15 years. As she speaks to us, the only memories of her family today are the photographs in her backdrop. "I cooked meals and put them to shops for a living. Now I don't have a mode of income. My elder son used to give me Rs. 5000 for a living, but now he too is no more. That day I steamed string hoppers and was waiting for my daughter and grandchildren to return for breakfast after the mass, but they never returned. I was on the road because I wanted to see the Consecration of the Church. Few minutes later I heard a loud noise and I thought it was in honour of the 150th celebrations. Then I saw people running saying that a bomb had gone off at the Church. I don't know how I'm coping with the loss. All their bodies were lying here. My daughter was rushed to Karapitiya till 3.00pm that day and she died the following day." The Daily Mirror also learned that the lives of many children were saved since they were outside the Church premises, lining up for the Consecration procession.
'I want to see my son become a priest one day'
In another house, little Sayura Sathsara lies on his new bed with a Holy Bible by his side, busy watching TV. According to his father Lasantha Roy, he has to be taken to the clinic every two weeks. "His head and leg got injured from the blast. The leg was fixed, but now it's crooked and after the second surgery in his head, his right hand doesn't function. We were told that he would have to take medication during his entire lifetime if his nerves were to function properly. His stitches will be taken off on July 23rd. Every other day we have to travel to Colombo to change the dressings. I had a bicycle, but Akash and the VforV Foundation helped us immensely and they even got me a scooter. My only wish is to send my son to a seminary and see him become a priest one day."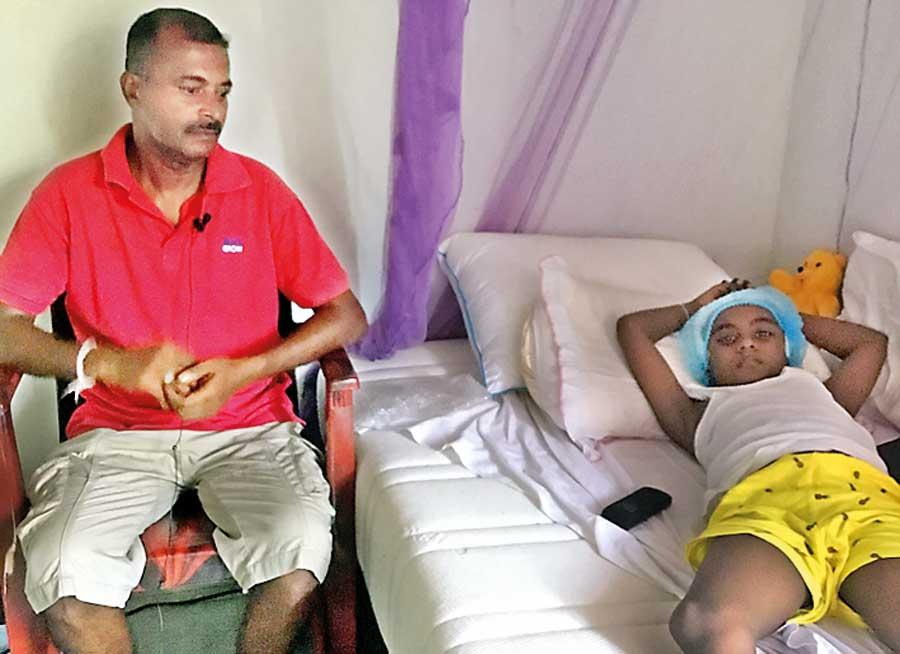 Lasantha with son Sayura
'I lost my job because my employer was killed'
"I still can't believe what I saw that day," recalls Jagath Premachandra Silva, another witness who had pulled many bodies out of the church premises. "My body was soaked in blood that day. I am a carpenter and since the blast took place I don't have a job since my employer too was killed. I don't have any hopes on the Government, but they should be held accountable for the attacks." With the demise of his employer, close to 40 families are at an inconvenience as many of the breadwinners in the area did carpentry at this particular warehouse for a living.
'The entire area was one big funeral'
"We have been staying in this house on rent for the past eight years," said Senarath Milroy, Sneha's father. "The blast converted the entire area to one big funeral. A shrapnel had pierced through my daughter's head and she was rushed to the Colombo General Hospital. The doctors did an amazing job to save her. During this time we faced a lot of issues. Since her condition was serious we were asked to keep her in a safe environment with no exposure to dust etc. They suggested that she stays in an air conditioned room. When I was looking for help, I came across Akash and he was like a God-send. He even repaired my three-wheeler so that I could go on hires and earn some money. They visit us once in two weeks to check on our progress."
'Couldn't pay last respects to my daughter'
Kansika Irushi's partially constructed house stands still. We are greeted by her father who showed us a printed selfie photograph, which was also the last photograph taken by his late daughter on April 20. "As her mother speaks, she recalls how talented her daughter is. "She used to sew bags and she was very creative. My elder daughter didn't have a best friend and both of them got along very well. Since I too got injured I was in hospital for 10 days. We had cattle and then Akash and his Foundation volunteered to help us and they sold off the cattle to another affected family from the bomb in Batticaloa and gave us money. Since I was in hospital I couldn't even pay last respects to my daughter," weeps Helen. She affirms that nobody can bring back the dead. What we can wish for is peace among all beings.
'Now I feel a little better'
Sneha Mindani, a grade six student at St. Sebastian's Maha Vidyalaya only remembers standing at the corridor of the Katuwapitiya Church a little before the incident happened. "Now I feel a little better and doctors said that they will check the progress next month. I was asked to stay in an air conditioned room and then Akash uncle and the Voice for Voiceless Foundation refurbished my room and even built a toilet. Hence, I would like to thank them for helping my family."
'Happy that my sister is recovering'

Little Ramesh Banuka, Sneha's younger brother, was one of the witnesses of the incident. According to his father he had been standing on the lawn and therefore was able to escape. "The incident happened during a speech at the church. I was standing next to my sister, but as soon as the blast took place I couldn't find her. So I ran home and told my parents what had happened. I'm happy that my sister is recovering now."
'Politicians are keeping quiet'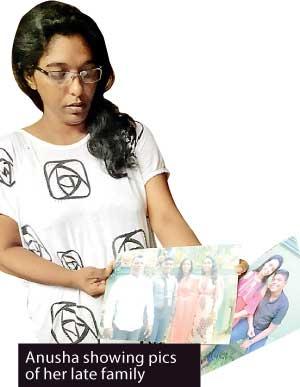 Anusha Kumari's house haunts with memories of her lost family. As we enter the premises, we were told that she is going through a tough time. Greeting us at the door, she gathered herself to recall memories of her late children and husband. "I had a nice family. My daughter was awaiting university entrance. I'm going through a traumatic period ever since the incident. Even though I'm on medication I don't feel I'm recovering because every day I wake up with a heavy heart. So far I haven't cursed anyone who was responsible for the blast, but today, I'm doing that because I have lost everything. I still haven't watched TV or listened to the radio. All politicians are keeping quiet fearing that they would lose the Muslim votes. Those who lost their lives were innocent. That's all I know." Her son had been a talented drummer, but today the drumset sits alone, waiting for the drummer to return. The final words he wrote for a physics project remain on a whiteboard and everything else sits still in her house.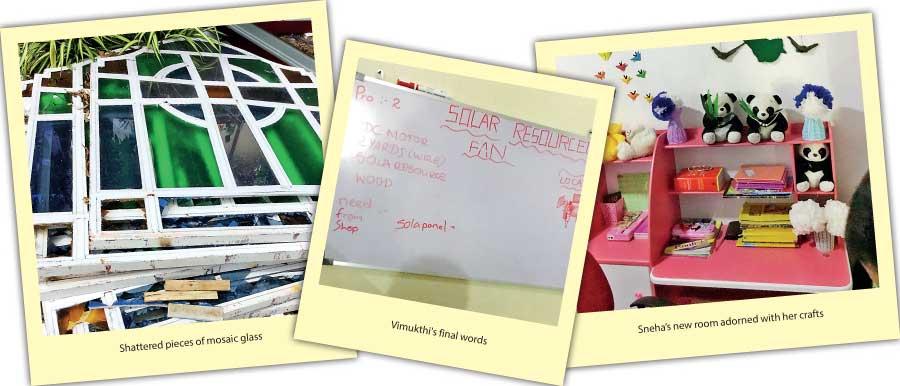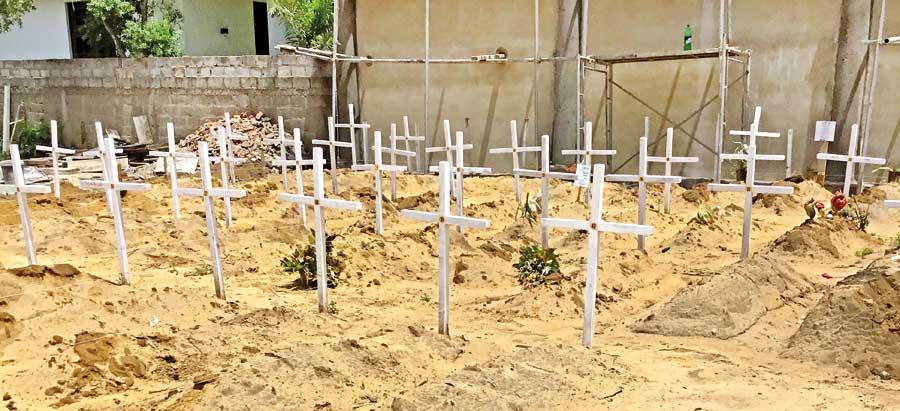 Several families now resting in peace