---
The book by Col. Nalin Herath not only provides valued study materials for scholars and researchers but is also immensely helpful to the average reader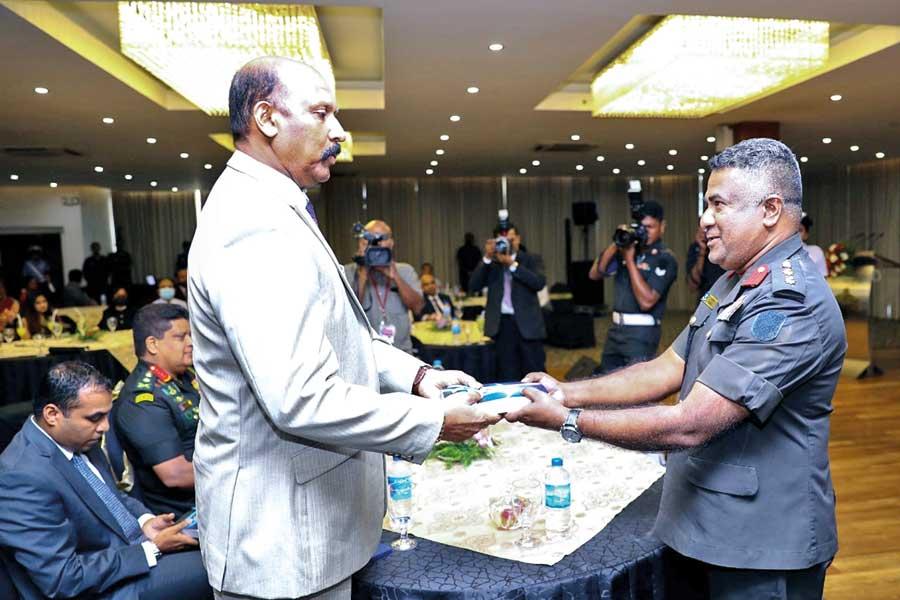 The author handing over a copy of the book to Secretary of the Ministry of Defence Major General (Retd) G.D.H. Kamal Gunaratne
At a time when updated study materials on international relations that study the interaction of nation-states and non-governmental organizations in diverse fields are rare, an attempt of bridging such gaps in the present, richly connected, complex world by a professionally skilled international relations expert demands greater appreciation.
"Story of the World: Geopolitical Alliances and Rivalries Set in Stone" authored by Col. Nalin Herath presents facts on geopolitics, history, culture and international relations, with an in-depth analysis on world affairs in the context of current geopolitical developments. This publication not only provides valued study materials for scholars and researchers but is also immensely helpful to the average readership of any age group who loves reading for life.

The author of the "Story of the World", Col. Nalin Herath who is Media Director of the Ministry of Defence and well-known author in international relations and current affairs exerts a successful attempt through this publication to further enhance the knowledge of the reader interested in contemporary world affairs.
This latest publication by Col. Herath is an extension to his maiden English publication 'Globe in a Nutshell' authored a few years back and its Sinhala translation is widely popular among the military and other scholars at home and overseas as they delivered highly demanding material in their studies.

There are ongoing conflicts around the world at present involving many major powers. Scholars in the field of international relations face challenges in analyzing as well as conducting research about politics of other nations in the face of rapid change in international politics and a general understanding of such issues is also equally important. Therefore, studying international relations which is a major discipline in social science becomes so vital for everyone.
Thus, "Story of the World: Geopolitical Alliances and Rivalries Set in Stone" is a book worth reading.