---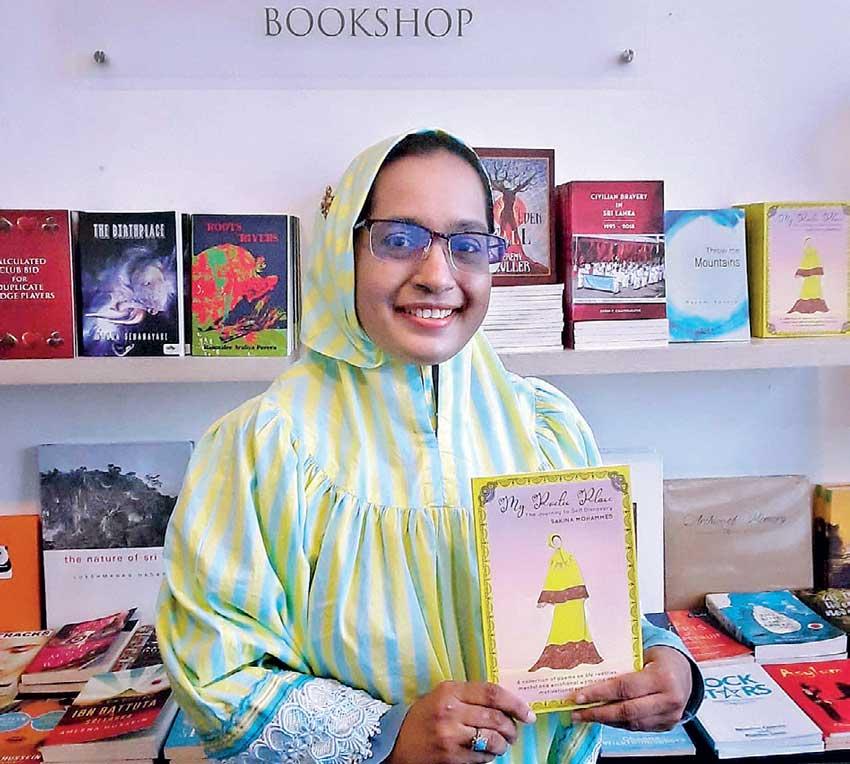 The book is a compilation of poems that shall uplift and inspire, ranging from life realities to love to motivational poetry, there is something for everyone!
Sri Lankan poet and author Sakina Mohammed recently launched her book "MY POETIC PLACE :the journey to self discovery" published under The Jam Fruit Tree Publications on October 13. Taking into consideration the pandemic situation and the new norms, the Author Sakina Mohammed released her book by uploading a compilation of wishes on her social media accounts.

The book is a compilation of poems that shall uplift and inspire, ranging from life realities to love to motivational poetry, there is something for everyone! The author believes that her book especially can help for anyone going through a rough phase. It has been reviewed and recommended by many literary personalities.

Sakina is a Sri Lankan born poet, a full time mother managing a few of her passion projects. Born on the 15th of June, she believes her Gemini intrinsic traits have blessed her with a strong command on words, colourful thoughts and quick wit! She has received a basic education at Burhani Serendib School in Colombo, under the EDEXEL London syllabus and received further training in home science, and is a professional Henna artist.

Her love for literature started quite early, where back in school she would write poems and stories and share with teachers and friends, two of her stories were even displayed at the school library in the reference section. She still holds dear her first poem book written during her school days. Unfortunately after her schooling years ended, even though her love for poetry always lived, inspiring her to write on special occasions, the mundane life deviated her from the art.

A couple of years back she found inspiration to connect with her childhood love for the divine art of literature and there was no holding her this time. She initially began with a blog named "MY POETIC PLACE" and shared with her family and friends. All the appreciation and support she received encouraged her and she ventured out on social media, publishing on Instagram and Facebook. Soon she started receiving offers for anthologies and featuring in Instagram pages for prompts and other challenges.

During the pandemic period Sakina says her poetry kept her going as she took the most advantage of the lockdown to write to the maximum of her capacity and kept sharing with her readers and took this opportunity to interact with many fellow poets around the world. Also she ventured out one step ahead by creating inspiring spoken poem videos on themes of mental and emotional well-being and motivational subjects in an attempt to create positivity through her art.

Sakina has also co-authored several books including, "It's all about me and you" published by Words-with-coffee, "Field of Hues" published by Writers Pocket, "Life is beautiful" by Spectrum of Thoughts, "Love, Lust, Liseouscness" published by Pen Of India Publication! "Repository of Emotions" published by Bookmarked Publishers and "The Unshared" by The Urban Poetry.

She has also been featured by several publications including Bharat Vision Literary Magazine affiliated to Motivational Strips Forum and also received honours such as the Order of Shakespeare Award by Motivational Strips forum, 'CESAR VALLEJO 2020' annual honour from Union Hispanomundial De Escritores (UHE), the worlds largest Spanish Writers' Union and also Gujarat Sahitya Academy International Award for Indian Independence Day honours.

"MY POETIC PLACE" The journey to self discovery poetry books are available for purchasing at:
The Jam Fruit Tree Publications and Writers' Club outlet at 366 First Floor, Galle Road, Colombo, Sri Lanka, 00300.
Postal orders worldwide
Cash on delivery Islandwide.
On Kindle as "My Poetic Place."