---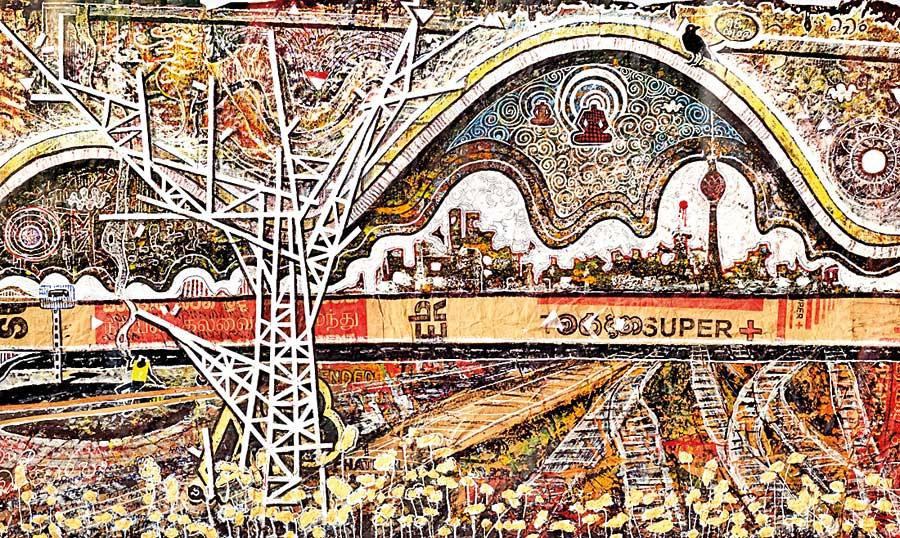 Mixed media artist Chathuranga Gamage will hold his exhibition titled Landscape on January 14, 15 and 16, 2022 at the Lionel Wendt Art Gallery, Colombo.
Chathuranga, who started his career as an artist in 2016, while creating his masterpieces maintains an open mind about the type of media which makes his creations distinctive.
Chathuranga's unmatched competence as a mixed media art brings him closer to achieving his goal of being exhibited at major art galleries. Moreover, he is known for his ability to be inspired by anything and everything around him, big or small.

Chathuranga Gamage says he quit theoretical arts at the age of 16.
I began my quest on wandering arts amongst life, in search of something," he says.
After successfully completing his GCE Ordinary Level examination, he joined the Ceylon Society of Arts where he learned the basics and at the age of 18, after which he joined the advertising industry. With over a decade of experience in the creative field, Chathuranga specialises in advertising and illustration.
An Art Director by profession, his most recent employment stint was with Sri Lanka's most globally awarded advertising agency, where he was an integral part of projects that have won many accolades, both locally and internationally.

Led by a curious mind, Chathuranga is an innovative artist, experimenting with different objects, media, and colours to create new expressions. Whether it is designing his own clothing, ceramic plates and mugs, or even bespoke toilet tissue, Chathuranga takes pride in transforming humble materials into never-before-seen creations that bring light and colour into this world.
However, the work that has taken him the furthest - literally - is the motorcycle he designed and rides which, to date, is the only one of its kind on the island.