---
He was a living example of God's love in word and deed
Rev. Fr. Joseph Benedict Fernando was born on March 19, 1938 on the feast day of St Joseph and was ordained a Priest of God on September 3, 1962. After a brief illness he was summoned by his Creator on October 21, 2021 and entered in glory into the land inherited in heaven by his virtues and piety. A scholar with a litany of academic qualifications, specialized in the field of education served as Teacher at St Peter's College Bambalapitiya and Vice Rector at Joseph's College Colombo. Though an educationist he was sent to a large Parish to gain more knowledge of Parish work. In 1997 Fr. Joseph Benedict Fernando was appointed as Parish Priest of St Lawrence's Church Wellawatte. Parishioners of St Lawrence's received him with warmth and with the assistance of Parish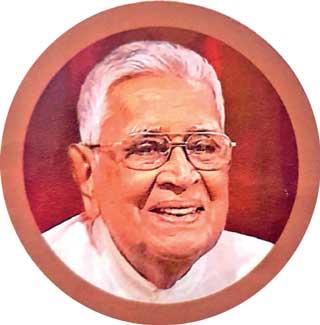 Rev.Fr. Joseph Benedict Fernando
Council members he performed his duties to the best of his abilities. He was affectionately called Joe Ben by his associates. Having learned Tamil from a Tutor in his office, conducted Trilingual Eucharistic services and delivered meaningful inspiring homily in Tamil. His sermons with words of high proficiency in English explaining the deep meanings of the Divine mysteries by way of stories enlightened the congregation, enabling them to deepen and sustain their faith

In the year 1998 the first responsibility of celebrating the Diamond Jubilee of the Parish fell on his shoulder and he steered it successfully as a very glamorous jubilant episode and his competence acknowledged and appreciated by the Archdiocese hierarchy and Parishioners. He was instrumental in organizing and promoting Sunday school (Daham Pasala) in the parish in all three streams for both genders. Having realized that there was not enough room available to accommodate these children, he pioneered and built an extension to the existing community hall and made it possible for nearly 200 children to study comfortably every Sunday morning, which stands as a monument of his labour. Through donation he was able to provide all students with a cup of tea and bun for their nourishment.

During his tenure in 2005 on his recommendation four (4) Extra Ordinary Ministers of Holy Communion were commissioned by His Grace Rt.Rev. Dr. Oswald Gomis Archbishop of Colombo (Emeritus) to distribute Holy Communion for the sick at homes and serve in the Parish celebrations Fr Joe Ben was much involved in the New Catechumenate movement, promoted and encouraged the progress of the family unity. Many youths and elders were enrolled and they were of great assistance to the Parish activities. The members of the Community in gratitude cared for him with concern during his time of retirement and sickness.
Parishioners of St Lawrence's received him with warmth and with the assistance of Parish Council members he performed his duties to the best of his abilities. He was affectionately called Joe Ben by his associates

In the month of June he permitted the members of the Sacred Heart Confraternity to conduct nine days Novenas with Benediction to the Most Sacred Heart of Jesus and concluded with festive Holy Eucharistic service on the final day. He provided financial assistance to facilitate the Free Medical Clinic in the Parish, operated mainly for the marginalized sick parishioners and also organized to provide all patients a cup of Horlicks in the mornings. He greets every one with his radiant smile and never spoke a harsh word to wound the hearts of anyone. He was a devoted servant of God with sensitive heart to help the needy, and a source of inspiration for many who sought his advice and assistance. He was a living example of God's love in word and deed with prophetic vision, extremely simple and humble like Joseph of the Gospel

During ethnic disturbances Fr.Joe Ben sympathized with the displaced victims and provided accommodation for displaced 12 Tamil girl students who were desperate to find accommodation in Colombo were provided a place to reside in St Lawrence Apartments to peruse their studies under the supervision of Rev. Sisters who were stationed there to assist parish activities. Many displaced victims approached him and received monetary gifts and dry rations and cloths for their living. He was blessed with a golden generous heart to help the poor and helping the poor was his guide line principle Fr.Joe Ben Fernando was able to find finance for an expensive project, to colour wash the unique hexagon shaped church exterior and interior with different colours to match the different designs and architecture. To add more beauty to the Tabernacle Altar erected two life size Angels in fiber on either side adoring with red lamps

He looked into the spiritual and welfare needs of the parishioners of St Anthony's Church at Mayura Place and conducted trilingual services on Tuesdays and Sundays and built up a religious community mostly Tamil speaking laity.. He upgraded St Anthony's Church as sub-parish to mother church St Lawrence and elected Parish Council Members to administer and assist church activities. He was a Priest of principle and discipline with sound character and charisma. His time at St Lawrence's was a time of grace and bliss of cherishing a wonderful gift of God. He served us from 1997 till February 2006 and we bade farewell to our affectionate Pastor and friend Fr.Joe.Ben The casket with the mortal remains of Fr. Joseph Benedict was brought to St Lawrence's Church to offer Holy Mass for the repose of his soul and for Parishioners to pay their last respect. Rev.Fr. Filician Ranjith co-celebrant at the Eucharistic Service delivered a eulogy. He said that " Fr .Joseph Benedict Fernando lived an exemplary saintly life, he dedicated and devoted his life for the welfare of the marginalized ,an advocate for the Clergy and a true servant of God , surely Fr.Joe Benedict deserves to be canonized."

May the Almighty God of Mercy and love receive him in Heavenly Kingdom and grace him to enjoy eternaly Bliss with Angels and Saints..

"You always had a smile to share,
Time to give and time to care,
A loving nature kind and true,
Is the way we'll remember you"
MAY HIS SOUL REST IN PEACE
S.B.David