---
January 28 marks the first death anniversary of our beloved dad E. T. Eusiri De Silva. It is also the birthday of my eldest son, his eldest grandson, who we all thought was his favourite.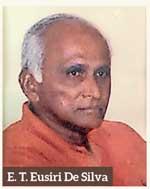 What has surprised me the most is how much I think about and miss him and the fact that when he was alive, I never really thought of him the way I do now.

All my life, I used to think of him as just my father who would be there for us. The way I thought of him as an adult was the same way I used to think of him when I was growing up. He would just do things for us whenever we needed him. He was that dependable.

For many who knew him he portrayed the image of a strong disciplined person who would be firm on his principals and beliefs. But I recall how much of a witty sense of humor he had.

Once when we were kids we pulled a practical joke on him and my mum said "Eusiri, you are the master in charge of discipline at Nalanda College and you cannot control your own three sons!". This is when he said he wanted to be remembered as the "Friendly Father".

My father was a very proud person. He never felt that he was a lesser person than anyone else and he never lived his life to showoff to others. A phrase he used to say that I try and live my life by is "Cut your cloth according to your means.".

When he was a teacher at Nalanda College and rode a motorcycle, he used to provide private tuition to some of the most powerful families in the country. He used to teach President J.R. Jayewardene's grandson, Gamini Dissanayake's children, Ranil Wickramasinghe's brother and niece, K. N. Choksy's son and even the current Deputy Chairman Wijeya Newspapers Ltd Sujan Wijewardene, who he used to fondly talk about with us at home. But he never used any of them to gain personal favours.

As a teacher it was amazing how much respect he had from his students. Whenever he went to a bank, to clear some goods from the port or a government department, there was always one of his former students who'd come to his help.

A few years before his death, when he was at an ATM, one of his famous former student's, Sri Lankan cricketer and current ICC Match Umpire Kumar Dharmasena was there and fell onto his knees and worshipped my dad on the road itself! It showed how humble Dharmasena is and the respect my dad received from students. There is so much I can write about my dad, but there isn't enough space. We miss you, but you are always in our thoughts and prayers. Rest in Peace dad!
Travis De Silva