---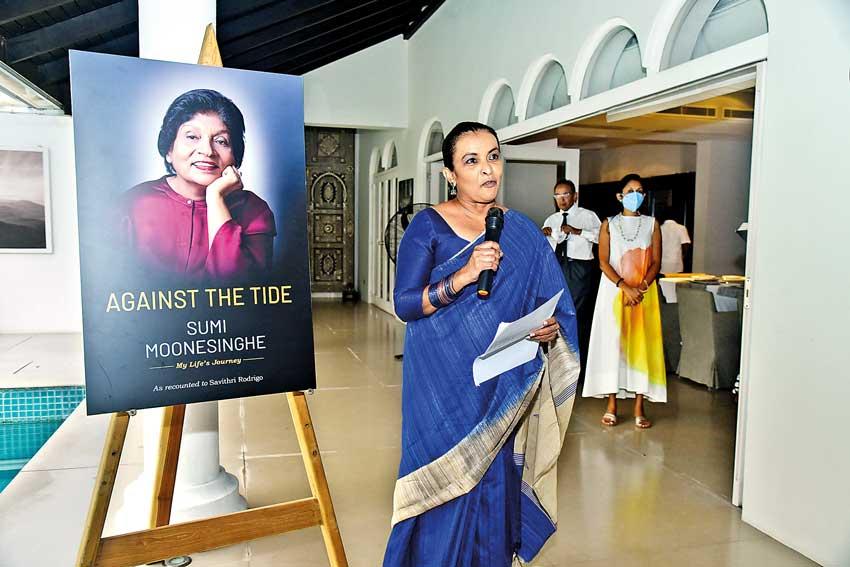 The author of the book Savithri Rodrigo addressing the audience at the book launch
---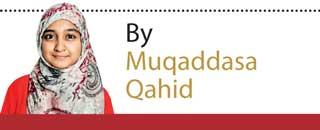 An engineer turned business woman turned Bank of Ceylon Chairperson turned social activist, Sumi (Sumithra) Moonesinghe is the jack of all trades and also the master of all. Venturing into spaces women rarely would, breaking norms and creating empires, Moonesinghe was someone who "goes against the tide" as stated by Savithri Rodrigo, the author of Moonesinghe's memoir 'Against the Tide'. The memoir was launched on 1 January at Moonesinghe's residence.

In her memoir, her journey from humble beginnings from her hometown in Aranayake to her being one of the top business women in the country is detailed with snippets of various facets of her personality being shared by her friends and family. "Being the only female in her engineering batch during her graduate and post- graduate days in Sri Lanka and the UK, to being the only top female business women in a room full of males, Sumi is definitely someone who was never afraid to venture into anything she put her heart into," shared Rodrigo. She (Rodrigo) added that writing Moonesinghe's book was a different experience as it was the only memoir of a female she had written. Rodrigo also shared that this was the fastest book she had written as the entire process from the initial interviews with Moonesinghe to the publication of the book took place within nine months. "Sumi wanted to launch the memoir on 1 January 2022, so we had to somehow do the entire process within nine months. She was also very impatient, wanting to read the draft of the first few chapters soon after the interview!" recalled Rodrigo.

Touching upon her relationship with Rodrigo, Moonesinghe stated that she had a good rapport with her. "Savithri was very understanding and I found that to be in important quality. It is important the writer understands the story of the person she is going to write about. She was also someone who managed to get the work done in time and that worked well with me because I have the 'you have to do it yesterday, not tomorrow' attitude."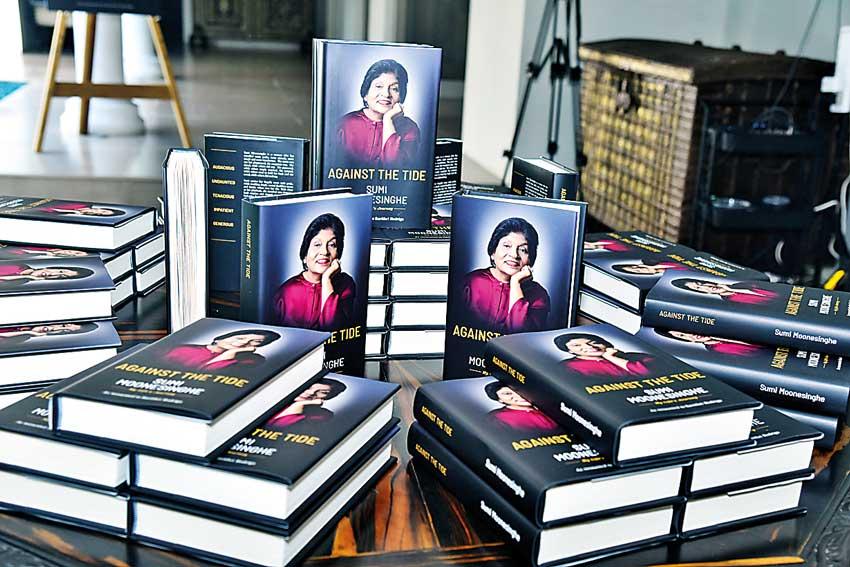 The memoir on Sumi (Sumithra) Moonesinghe titled 'Against the Tide' was launched at the former's residence on 1 January - Pix by Pradeep Dilrukshana
---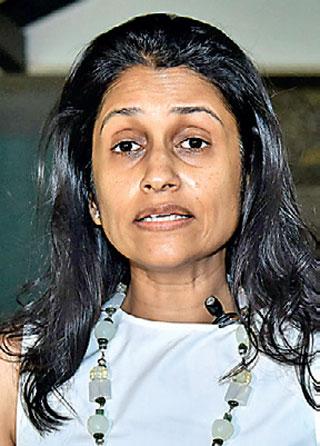 According to Moonesinghe the idea of writing her memoir began when her daughter Anarkali (in the picture) prompted a series of questions daily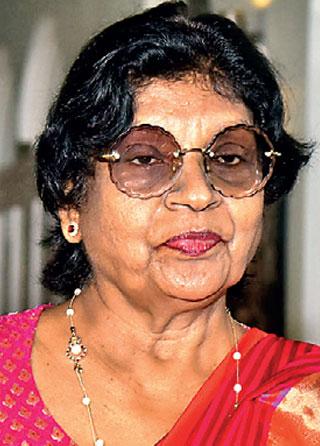 Sumi Munesinghe at the book launch
---
"If I can do it, anyone else can!"
Moonesinghe shared that the idea of writing her memoir began when her daughter, Aushi, gifted her Storyworth, a digital memoir that prompted a series of questions daily. "I was really depressed during the COVID-19 lockdown because I was worried I would not see my grandchildren again and also I had always been someone who always had something to do. So, when my daughter sent these questions, I would write the answers to it and that's when I realised I was writing my life's story. And I then realised that my story was something I wanted my grandchildren to know," shared Moonesinghe. She had shared the idea to her friend, Shehara De Silva and it was De Silva who introduced her to Rodrigo.

In one of the first few chapters in the memoir, it details her experience of moving from the small agricultural village of Aranayake to the metropolitan Colombo and how she had to find her way around the city. "Once I had to go to F.X Perera's in Pettah and had to figure out the way from my hostel in Borella to Pettah. My fellow boarders gave me the directions to go by bus to Second Cross Street but I had to find the directions to F.X. Perera's on my own. I managed to go there and come back to the hostel. That was when I realised I could even talk to the lamppost and get my work done," she recalled. The memoir shows various instances of her independence and courage; from navigating the train from London to Southampton on her own to introducing and successfully ensuring Anchor as the no. 1 brand of milk powder in Sri Lanka.

"I wanted my grandchildren to know that if I can do it, anyone can," she said recalling an incident where her granddaughter had told her that if one wanted to do something, fear should not hold them back. In the book she shares that her advice to young people is for them to be totally committed, work hard and single-mindedly achieve their own objective. She also advises them to be innovative and not to be afraid to challenge their superiors if they have new ideas to improve the workplace.

She shared that even though her career went through a paradigm shift, from engineering to business to banking, she as able to use her engineering background and knowledge in the business and banking spaces. "My husband, Susil, trained me in business and soon I was able to get the hang of it. Likewise, when I became the BOC Chairperson, me coming from an engineering and corporate background helped me to see things in an angle bankers do not see and I was able to create some crucial changes."
Flying high yet grounded to her roots
Even though Moonesinghe headed one of the largest conglomerates at the time, she never forgot her roots and humble beginnings. Thus, she also gave back to the society through charitable ventures and social causes. In her social activism journey, one of her most recent and successful projects was the 'No Kunu' programme which was geared towards a cleaner Colombo city. After Easter Sunday bombings- she partnered up with Dialog Axiata to sponsor 45 children orphaned by the attacks, until the age of 25. Thereafter, she also initiated the 22 million tree project to plant 22 million trees to ensure a greener future.

"We cannot expect the government to do everything, as people we have to take action and try to create some sort of change," stated Moonesinghe. She also noted that the youth should not overlook the injustices and wrong things happening in the country, and they should try to raise their voice at the very least, as it could lead to some change.
"No concession asked just because I was a woman"
Interestingly, Moonesinghe never identified herself as a feminist despite her work. The reason was Moonesinghe was of the firm belief that when women segregated themselves on basis of gender, they are unable to benchmark themselves against men. "I never asked for any concession just because I was a woman. I wanted to benchmark myself against those who were already there so I did what I wanted to do. I never called myself a woman engineer because why should there be a woman engineer? An engineer is an engineer despite being woman or man. I believe this segregation should stop."

This is something Moonesinghe wanted to also share with the youth of Sri Lanka, as she plans to donate her books to the libraries of her schools- Kegalle Balika Vidyalaya and Devi Balika Vidyalaya. She wanted the students to read the book and understand that "Only courage is needed to be different and try out what you always wanted to do. Then you can do what you want."