---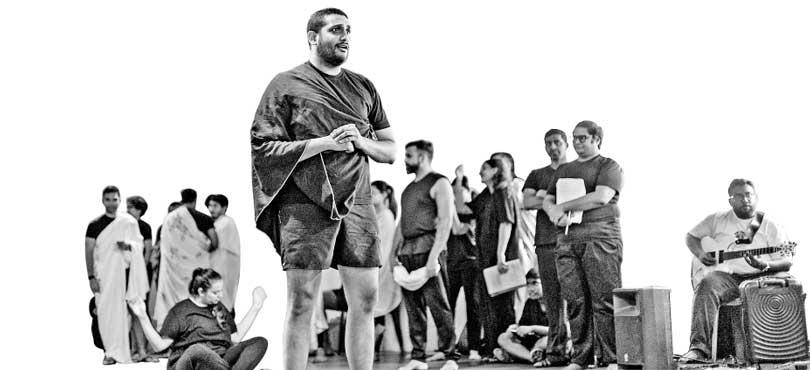 Stagefright&Panic Inc Presents "Julius Caesar – The Musical" 5th – 8th of October, Lionel Wendt Theatre.
Just how often do you think about the Roman empire? Julius Caesar – The Musical is hitting the Wendt this October and as rumour has it - Colombo is in for a show! Our journalist Panchali Illankoon sat down with Nana Jeraine and Dishan Muneswaran from the theatre company behind the anticipated show, StageFright&Panic to find out more about the play.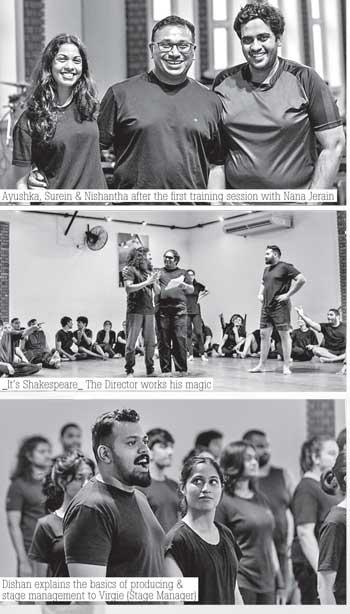 Q:
Hello, hello! Let's get right to it. Tell me something about this play?
Nana : First let me tell you something about myself. I am Nana Jeraine, the Artistic Director of this play.
Dishan : I am Dishan Muneswaran,the Producer.
Q:
Great. So what is this play about?
Nana : My dear girl, before we delve into such mighty and lofty matters, is it not pertinent that you introduce your reader to your interviewee?
Q:
Well, you are the Director which is all they need to know.
Nana : That maybe all they need to know, but there is much they don't know. Who is this Nana? What does he bring to the table? Or in this case the stage. For without a complete knowledge of who I am, how will they judge my work?
Q:
Ok, fine, if it's that important. So tell us - who are you? Who is Nana Jeraine?
Nana : I'm a lover, I'm a sinner, I'm a saint
Q:
Those are the lyrics to a song.
Nana : I am a song, a poem, an ode, a prose
Q:
I think my readers would love to know what this play is about.
Nana : This play called "Julius Caesar – The Musical" is about Julius Caesar
Dishan : I think that muchwas obvious
Q:
Yes. But what makes this play special?
Nana : Have you ever
seen Julius Caesar as a Musical
in Colombo?
Q:
No, I guess not. So, is this based on Shakespeare's play?
Dishan : That is a good question. Yes, it is partly based on Shakespeare, partly based on History.
Nana : And partly based
on brilliant insights into Rome by
yours truly.
Q:
Ah, so it's an original script?
Nana : The script is as original as an original thing made by someone who only makes original things.
Q:
Right. Now, there are some claims that the script was written by Feroze Kamardeen?
Nana : Who?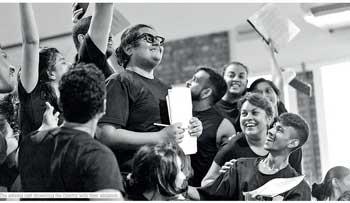 Q:
Feroze Kamardeen, the playwright of Pusswedilla, Freddy and Hamlet at Elsie's Bar?
Nana : I too have heard rumours like this, spread no doubt by this very person Feroze Kamardeen, just to take the luster away from my glorious hour. I have one message and one message only to this Feroze person, whoever he is. I dare you to stand in front of me and claim credit for my creativity.
Q:
So, you have nothing to do with Feroze?
Nana : I can assure you he and I will never even be in the same room together.
Q:
I see, what about Jerome de Silva?
Nana : What about him?
Q:
Is his company The Workshop Players involved in this?
Nana : Ahh, now I see where this confusion has arisen. Dishan, my trusted friend and Producer would you care to explain what is going on?
Dishan : Basically, when we announced that we were doing Julius Caesar – The Musical, Kalakeerthi Jerome de Silva called us and requested us to take some of his proteges under our wing, so we called up The Workshop Players and StageLight&Magic and told them to come and learn from us. This play, in addition to providing the finest entertainment to the audience, is also a training ground where we are producing some of Sri Lanka's finest thespians.
Nana : Not just on stage, but in terms of Artistic Direction I have taken young Surein de S. Wijeyaratne under my wing to personally train him, as I have also done for Ayushka Nugaliyadda who is a very promising choreographer and Nishantha Warnakulasuriya who, under my direct tutelage, has become a fine vocal director. See my dear, all these people have amazing talents and skill, they just needed me to come along and hone it, sharpen it, make it useful. I am glad I could do this for all these fine people. As I always say "talent is nothing without purpose".
Dishan : I have also taken the entire production team of the Workshop players and StageLight&Magic including Ashan Munasinghe to teach them the basics of successful theatre production, because like Nana, I am kind of the best at what I do.
Nana : Thank you for the compliment though I am not entirely sure about you being as good as me,
but it's ok.
Q:
Right, well, back to my previous question. Any chance we can know what the play is about?
Dishan : It is a musical version of Shakespeare's play with new insights, new characters and a whole bunch of hitherto unrevealed facts. It goes on the boards of the Lionel Wendt from 5th – 8th of October. Box plan and tickets at the Wendt.
Stagefright&Panic Inc Presents "Julius Caesar – The Musical" 5th – 8th of October, Lionel Wendt Theatre. Written by Feroze Kamardeen. Directed by Surein de S. Wijeyaratne, Music Direction by Nishantha Warnakulasuriya and Choreography by Ayushka Nugaliyadda. A Collaboration between The Workshop Players of Colombo and StageLight&Magic Inc. Box plan and Tickets now available at the Wendt.