---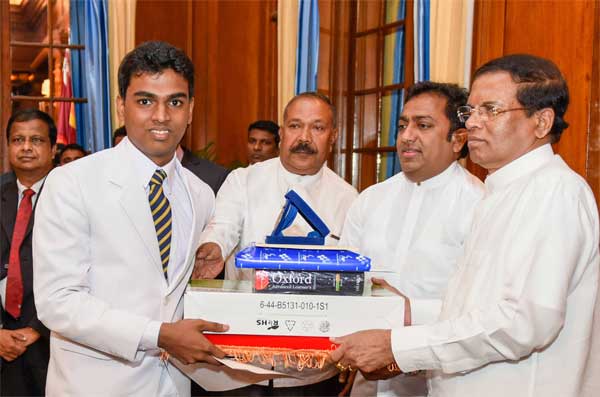 Singer Sri Lanka PLC, presented their latest Singer XSeries laptops to the 21 students who excelled at the 2015 G.C.E. A/L examinations. The ceremony, which took place recently, was graced by President Maithripala Sirisena who personally awarded the students with the Singer X Series laptops.
The special function which facilitated top performers who had achieved island rankings was held in the presence of Singer Sri Lanka PLC Group CEO Asoka Pieris, Finance Director Lalith Yatiwella and Director – Human Resources, Neminda Karunaratne. Other dignitaries from the Ministry of Education as well as the business fraternity were also present.
Singer's role in the uplifting of education in Sri Lanka has always been an instrumental. The company continuously focuses on breaking the digital divide and a facilitation of this caliber only helps students to get motivated to aim higher.
Commenting on the stance that Singer had taken with this year's function, Singer Sri Lanka PLC Group CEO Asoka Pieris said, "Having gone forward with the Schools Development Projects which was initiated in 2011, we, as corporate citizens greatly believe in the significance of education and the revered avenues that get opened for those who aim ahead and therefore, we had pledged to uplift the educational qualities in Sri Lanka by supporting the educational platform and empowering the future generations through the latest technology."
The Singer XSeries laptops, which were presented to each of the 21 students who ranked high in the island, inherits the latest 6th Generation Processor of the Intel Core i3 and attributes an all new genuine Windows 10 Operating System. The laptop also features a 4 GB RAM, 500 GB Hard Disk, 15.6" HD display, wi-fi and bluetooth as well as enhanced Intel graphic support. The Singer XSeries also comes with a high preference 3D/2D Graphic Accelerator, built-in speakers and microphones and amplified energy saving capabilities with a smooth, light-weight design.
These features are ideal for students especially at a time period where Information Technology is being thoughtfully integrated into the local syllabus. Singer Sri Lanka's Schools Development Project was launched with donations that were made to 160 schools to mark Singer's 160th anniversary in 2011. Since then, Singer has continued to support schools as part of the company's corporate social responsibility program by setting aside more than Rs. 10 million annually towards educational enrichment in Sri Lanka.