---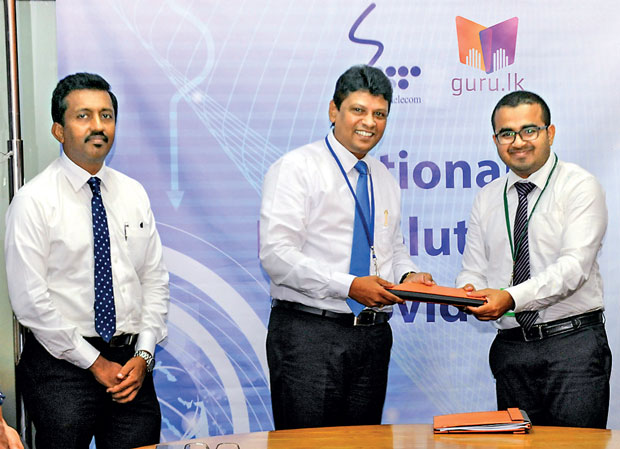 Guru.lk, Sri Lanka's leading eLearning portal has signed up with Sri Lanka Telecom (SLT) country's national ICT solutions provider, to enable SLT Broadband customers to pay for online study courses through the platform.

This partnership increases the reach of the portal to encompass an audience of more than 70 percent of the country's connected subscribers since Guru.lk already has similar arrangements with leading mobile service providers in Sri Lanka.

Broadband users of SLT fixed lines, via fibre, copper and 4G-LTE connections who register for online courses offered by Guru.lk will have the course fees added to their monthly SLT bills, from September onwards the company said.

Guru.lk features online modules on a variety of subjects ranging from courses linked to the school curriculum to professional education, and edutainment content including IT courses, beauty culture and even cooking and singing. Scholarship exam preparation guides, Year 10 and 11 government approved curriculum lessons, Advanced Level science and commerce stream lessons, Chartered Accountancy, AAT, Spoken English, and embroidery demonstrations are a few examples of the courses offered online.

The online portal emphasises on the value of online education, as it eliminates barriers imposed on learning as a result of non-availability of material across geographies. Alongside the convenience it offers, this model of education is also cost and time effective.

Commenting on the partnership, Sri Lanka Telecom Group Chief Marketing Officer, Ajantha Seneviratne said: "SLT believes in developing human potential, and is proud to be associated with Guru.lk on this initiative. We have been working in many ways to ensure inclusive and equitable quality education to promote lifelong learning opportunities for all Sri Lankans."

"We are proud that we built the platforms and enabled connected universities, schools, rural Information centers and vocational education centers across the country," he added. "We have also taken initiatives to share industry knowledge and provide education services through our training schools and newly established SLT Technology Campus. We are truly looking to make eLearning popular in the country and partnering with Guru.lk gives us the opportunity to reach
the audience."

Headstart (Pvt.) Ltd CEO Hasitha Dela (Guru.lk portal's owning company) described the collaboration with SLT as another milestone in his company's journey to broaden its reach, touching the lives of Sri Lankans through education. "We believe that digital education and social learning will shape future learning," he said. "The wide availability of smart phones, and the 'Smart School' project launched with the objective of exposing traditional classroom based teachers and students to the latest digital based learning technology and systems will not only play a role in boosting the country's digital literacy but also further stimulate the younger generation's use of digital technology."