---

From left: SLIM AGM Education and Training Sanjeewa Jayaweera, Ridgecrest Group Director/CEO Sanath Fernando, SLIM Vice President Pradeep Edward, SLIM Lecturer Niranka Perera and SLIM Assistant Manager Academic Affairs Madhusoothanan
The Sri Lanka Institute of Marketing (SLIM), the national body for marketing, unveiled Sri Lanka's pioneering certificate course in digital marketing (CDM) recently at The Kingsbury Hotel.
Digital marketing or data-driven marketing plays a leading role in today's challenging global marketing arena. SLIM has designed this CDM course to suit marketers and non-marketers.
The CDM thus is the newest innovative product in SLIM's product portfolio. The three-month programme consists of three modules.
At the inauguration, the new batch of students was made aware of the CDM curricular and the value it could bestows on persons engaged in marketing products and brands. Participants who graced the occasion represented a cross section of young employees, marketing practitioners, corporate and public sector middle managers, non-marketers, entrepreneurs and SLIM students.
Intakes for the SLIM – CDM programme are now open and the students will follow the course at the SLIM Business Schools in Colombo and Kandy.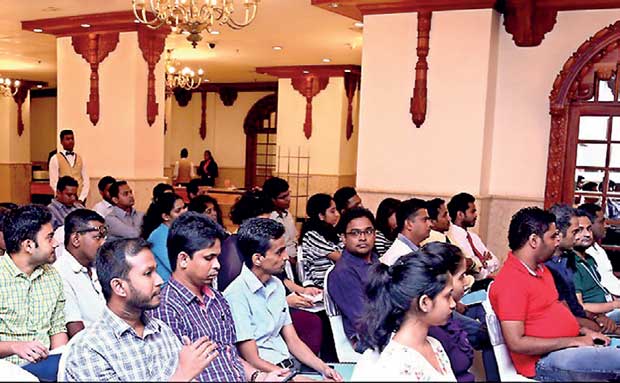 Digital marketing, which promotes products or brands via digital medium differs from traditional marketing as it involves the use of channels and methods which enable an organisation to analyse marketing campaigns and understand what is working and what isn't, typically in real time. Digital marketing facilitates customer relationships across all channels, both digital and traditional, and thus is an integrated approach towards marketing.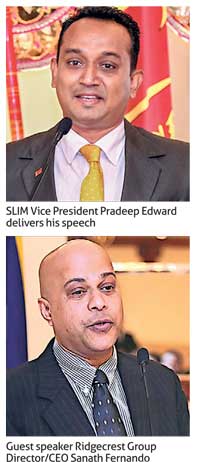 The CDM is a preliminary course designed by SLIM to help students understand the fundamentals of various aspects of digital marketing and the online communication ecosystem. SLIM assumes candidates without preliminary marketing knowledge who are keen to gain digital marketing knowledge by following the CDM course.
The SLIM - CDM bestows on students the skills essential in planning, organising, leading, controlling and decision-making within the framework of digital marketing.
The CDM programme will be done with a blended focus on academic and professional orientation. While 50 percent of the content will emphasize on theoretical concepts, the remaining will focus on professional practices with project-based learning opportunities.
The special guest, Ridgecrest Group Director/Chief Executive Officer and Tickets.lk Founder Sanath Fernando appreciated SLIM's endeavour in introducing the CDM programme.
"Digital marketing is an essential requirement in the current marketing arena. It allows you to extract value from big data to make better business decisions faster. You need a consolidated view of customer preferences and expectations across all channels: web, social media, mobile, direct mail, point of sale, etc. to have focused interaction. Digital marketing is the answer to that," he said. He also added, "When I embarked on digital marketing there were no mentors to educate me on the subject. SLIM has done a great service by introducing this digital marketing programme for Sri Lankans."
SLIM Vice President Pradeep Edward and GAP Holdings Director/CEO said that SLIM has introduced the CDM programme after a thorough research.
"People with the know-how on digital marketing champion the current marketing sphere. Others are treated as laggards. The best marketing practitioners who hold senior positions in the corporate sector will lecture SLIM's CDM students. They will share industry experiences with students and their lectures will shed light on both local and international contexts," he said.
Edward also shed light on the wide spectrum of activities to which SLIM students are exposed to beyond marketing studies.
"The SLIM Students Council offers networking opportunities with peers/lecturers and to take part in national level events conducted by SLIM such as Brand Excellence, SLIM-NASCO, People's Awards, Emerging Marketers' Night, EFFIE and SLIM Toastmasters," he said.
SLIM CEO/Executive Director Sanath Senanayake was of the opinion that the SLIM – CDM course content, syllabus, text books are made to cater to current industry requirements.
"Digital marketing helps marketers respond to and initiate dynamic customer interactions. The SLIM - CDM programme has the right blend of group case studies and online MCQ examinations. SLIM is flexible to adapt to industry requirements and introduce courses such as the CDM from time to time. SLIM is dedicated to produce marketers who can rub shoulders with any competitive environment,"
he said.
The credible and value adding courses/training programmes and the affordable prices of SLIM have made the marketing fraternity and the corporate sector in Sri Lanka perceive SLIM as an invaluable mentoring entity for over four decades. SLIM is dedicated to elevating the status of marketing in Sri Lanka.