---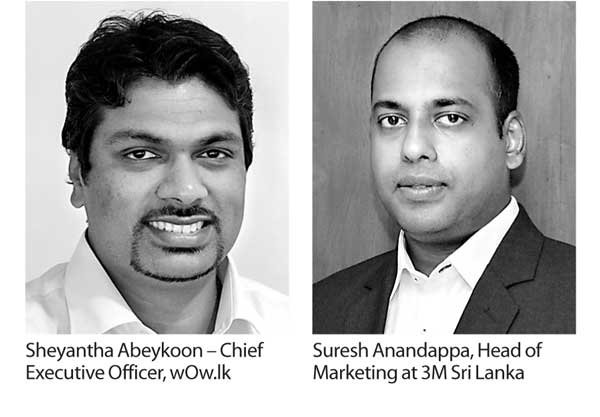 E-Commerce in Sri Lanka has been growing at a fast pace in Sri Lanka and one of the foremost companies driving that revolution is wOw.lk - the largest domestic e-commerce website, operated by Digital Commerce Lanka (Pvt) Ltd, a group company of Dialog Axiata PLC.

It was one of the pioneer websites in Sri Lanka to offer a wide range of deals, original products with warranty and after-sales, multiple payment options and island wide delivery, striving to offer its customers the complete shopping experience.

Over the years, new entrants have emerged but the leadership position carved out by wOw.lk endures. Utilizing a highly skilled and experienced team of professionals with the extensive resources of wOw.lk, the company's vision to provide only the best e-commerce experience to both merchants and consumers across a variety of products and services makes it the preferred online partner for most discerning companies. While the e-commerce field has become a fiercely contested segment in the country, wOw's experience and dynamism has ensured that the e-commerce company continues to lead the market.

3M Sri Lanka, a fully-owned subsidiary of 3M USA, is present in diverse industries such as Healthcare, Electro and Communication, Infrastructure, Construction, Apparel, Woodworking, Automotive Aftermarkets, Personal Safety and Security and Retail. As a company that embodies the spirit of innovation, it was but natural that this company would seek to drive its products across both traditional and modern channels. The company's pursuit of marketing excellence led it to partner with wOw.lk to set up an online e-commerce B2B and B2C channels.

Here, Suresh Anandappa, Head of Marketing at 3M Sri Lanka and Sheyantha Abeykoon – Chief Executive Officer, Digital Commerce Lanka (Pvt) Ltd., the company that owns and operates wOw.lk discuss their mutual partnership and future plans:

On what prompted 3M to go online
Suresh: "Globally, 3M is diligently working on the digital transformation of the company, where we firmly believe that it will support building of competitive advantage.

eCommerce is a major part of that whole transformation in terms of how we serve the ever increasing number of customers who are transacting online. By establishing our presence in e-commerce, we can leverage the convenience of accessing 3M products for our customers, besides which this enables us to reach premium customers in cities apart from Colombo. Since our products are application-focused, we have many premium customers located elsewhere who are unable to access 3M products. Now that we are empowering such customers to avail of 3M products online, we are able to bridge gaps in traditional channels to reach all customers due to geographical constraints. Our online presence also enables us to offer focused information about 3M products and how to use them

Sheyantha: "3M actually began discussions with us to run a digital marketing promotion and list their products online in celebration of their 21st anniversary in Sri Lanka. The campaign was so successful that we continued to work together and have now built an online market for the consumer range of products."

What wOw.lk brings to the partnership
Suresh: "As a multinational, 3M was looking for a partner with a proven track record and wOw.lk fit the bill as one of the largest and established e-commerce portals operating in Sri Lanka. The fact that its credentials are backed by a large telcos gives us additional confidence. Moreover, looking at the competitive side, wOw.lk offers strong platform credentials such as site traffic, customer base, average, transaction volume & values, conversion rates etc which are important factors to consider when selecting an online e-commerce portal. Over the years, the company has demonstrated innovation in driving awareness of its site through unique marketing products and services. This can be evidenced by top of the line merchants and customers who have vested their confidence in wOw.lk. Last but not the least is the energetic and dynamic team at wOw.lk which sealed the deal for us as a partner with whom 3M could have a fruitful collaboration.

Sheyantha: "We are privileged to work with 3M as it is a strong reputed global brand with a set of products we thought would appeal to our customer base. More significantly, we saw them as a long term partner who would work with us to achieve mutually beneficial outcomes, since they shared a strong commitment to investing in building an online catalogue and were not looking for any quick wins."

Journey so far
Suresh: "We have seen a lot of gains over the duration of our ongoing partnership. wOw.lk continues to be our main e-commerce partner with steady increase in revenues. Since our launch on wow.lk, we have doubled our portfolio listed online. Most recently, we introduced our popular line of car care service packages such as Sun Control auto films, Paint Protection films, Automotive matting and Vehicle detailing. These packages are made available online only through wOw.lk. We have also been able to build a loyal customer base who routinely visits wOw.lk to purchase their favorite 3M products."

Sheyantha: "We have grown very well together. We take pride in being the partner that introduced 3M products to the online market in Sri Lanka. In fact, 3M launched many of their B2C products exclusively online. Even today, we carry a 3M catalogue that remains largely exclusive to us."

On future plans
Suresh: "We remain committed to maintain a continuous focus on increasing the portfolio of listed products while help customers to make well-informed choices by making all possible information available to them. This is where we can leverage on the power of analytics that is inherent to digital platforms, to bring a better experience to our current and prospective customers. Our online collaboration with wOw.lk is driving even enhanced convenience and access of 3M products."

Sheyantha: "3M products have been a strong driver of new customer acquisition for us and we expect that to continue in the coming year. We have been discussing several new and exclusive products to be launched on wOw.lk over the coming year and these will be rolled out in the coming months. In terms of sales expectations, we hope to double the volumes we are currently doing with 3M."
wOw.lk is owned and operated by Digital Commerce Lanka (Pvt) Limited, a wholly owned subsidiary of Dialog Axiata PLC. The company is an industry pioneer and the largest ecommerce company catering to the domestic consumer. wOw.lk continuously strives to meet the varied needs of the local online shopping community, delivering a superior virtual shopping experience with a variety of affordable products and services.