---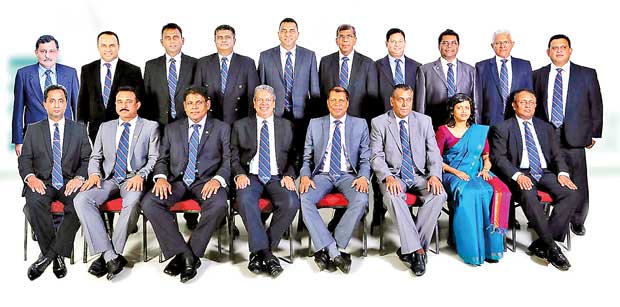 IPM Sri Lanka, the nation's leading professional body for human resource management, elected its new council to formulate strategies and carry forward its exemplary achievements into the year 2017/18 and beyond at the annual general meeting (AGM) held at Waters' Edge recently.

The AGM was attended by a large number of its members comprising HR professionals, academics and consultants. IPM is the only professional HR body in Sri Lanka, which has been incorporated by an act of parliament.

The stewardship of IPM Sri Lanka was unanimously entrusted by the membership to eminent HR and leadership guru Prof. Ajantha Dharmasiri to provide leadership and direction as President for the year 2017/18. Prof. Dharmasiri was elected as President for the second consecutive year.

Rohitha Amarapala will serve as Immediate Past President in the Executive Council; G. Weeratunga - Vice President, Ken Vijayakumar - Secretary, Wasanthi Vithanage - Assistant Secretary were elected uncontested to the Executive Council while Ajith Bopitiya - Treasurer, Col. Saman Jayawickrama - Assistant Treasurer and Gp. Capt. Manoaj Keppetipola - Editor were elected by majority vote at the AGM.

Furthermore, out of the 10 Council Member vacancies, six Council Members were elected by majority vote at the AGM and four Council Members representing different industries were co-opted at the Council Meeting held on August 10. The Executive Council and Council Members will provide guidance and carry out the numerous activities of IPM Sri Lanka in the forthcoming year. IPM Sri Lanka is one of the most active professional bodies in Sri Lanka.

"I am privileged to be able to work with an experienced and dynamic team of HR professionals this year too in steering and guiding IPM Sri Lanka to raise the bar for HR professionals to be the enablers and key drivers of the industry and the country as a whole," said Prof. Dharmasiri.

As one of the most active professional bodies in the country, IPM Sri Lanka has planned to host many events to engage professionals in all areas, business and industry leaders and academics to interact, share insights, conduct research, exchange ideas and create momentum to lead the country to a new era of development and prosperity. These events include IPM Sri Lanka's flagship event The IPM National HR Conference, National HR Exhibition, seminars and workshops.

IPM Sri Lanka will also expand on its existing international relationships to help gain higher levels of offshore recognition for its activities and programmes. As a member of the Asia Pacific Federation of Human Resource Management (APFHRM), IPM has secured the APFHRM accreditation for the IPM PQHRM (Professional Qualification in Human Resource Management) programme.

IPM also plans to provide an enhanced level of service to its membership in order to increase value addition and will also engage in upgrading the curriculum of its extensive and popular Business School courses and programmes.

IPM Sri Lanka keeps pace with new trends and concepts in HR by engaging continuously with the business community to share experiences, thoughts and insights in order to enrich and enhance the HR profession. It actively encourages and promotes members' participation at international conferences and forums to provide exposure, build networks and conduct research into areas of interest to the HR profession in Sri Lanka.