---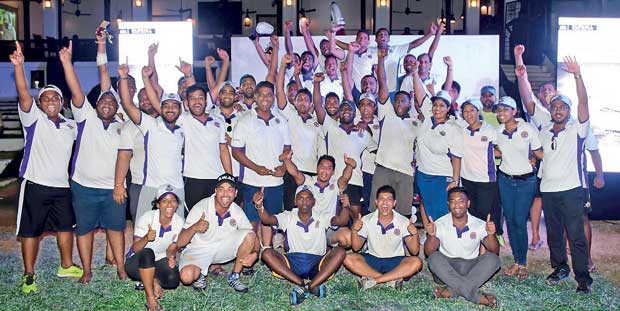 One of the critical factors that has pushed Ceylon Tobacco Company PLC (CTC) to the highest echelons of corporate success has been its team of exceptional employees.
The company has always embraced a progressive vision towards its people with the objective of creating a winning team that would in turn power a winning organization.
Over the years CTC has driven innovative programmes aimed at empowering and energizing its employees, and in 2016 embarked on yet another initiative to ignite its employees to change the game.
Project 'Ignite' was launched during the early part of 2016 as part of the company's overall strategy which echoes their commitment to motivate individuals across the organization towards a common goal.
The project focuses on instilling qualities that would benefit employees and the business in the long run: perseverance and passion to achieve ambitious goals; agility to surmount any challenge; the ability to inspire oneself and others; and a celebratory culture that revolves on recognizing employee achievements. The project aims to create 'One CTC Tribe' that will work towards one mission with one game plan.
"Our people remain the cornerstone of our success as a corporate and they are a strategic priority at CTC. Through Ignite, we hope to unleash the true potential of our employees by empowering the heads, hearts and hands of our employees to embrace change, overcome challenges and drive innovation as a way of life. I am confident that this project will not only benefit our employees but will help our company rise to greater heights," remarked Michael Koest, CTC's CEO/Managing Director.
CTC introduced the game changers in 2016 to ensure that the organization was ready to face the challenges of today while driving the business forward to meet its long term ambitions. Ignite has an integral role to play in preparing the employees to make this a reality. The project has re-invigorated employee engagement, internal communications and employee recognition through the introduction of forms such as the monthly 'Tribal Talk' meeting which brings all employees together to discuss business priorities, highlight achievements and reward all the good work.
Commenting on the finer details of this initiative, CTC's Head of Human Resources, Aruna Dissanayake said, "We have formulated several activities to impact people within our company. 'The head' is about changing the mind-set of the people and driving perseverance and ambition, while 'the hand' is about developing the skill set and capability required to excel. Activities surrounding 'the heart' are specifically aimed to inspire other people and be inspired by others while also inculcating the practice of celebrating achievements as one tribe"
Under Ignite, CTC revamped its recognition mechanism to also reward positive attitudes and behaviour, while introducing 'Tribal Induction', a unique approach to inducting new employees.
Furthermore, the company recently launched the CTC speech-craft programme for its employees with the objective of enhancing public speaking and communication skills to build confidence and leadership capabilities.
Ignite has also positively contributed to an increase in employee participation at company events generating a positive vibe overall. Going forward the company is poised to introduce a wellness agenda for its employees as well.
Over the years, CTC has been successful in maintaining sound relationships with their people which is strengthened through strategies in sync with the company's overall business agenda. CTC will continue to innovate platforms that contribute to sustainable, harmonious and cordial relations with their people in the years to come.