---
CIMA Business Leaders Summit 2017 will take place on September 11 on the theme 'What's next: The changing business landscape'. Organised annually, the Business Leaders Summit is CIMA Sri Lanka's flagship event featuring presentations with global leaders and influencers on a range of contemporary issues that are shaping the global business landscape.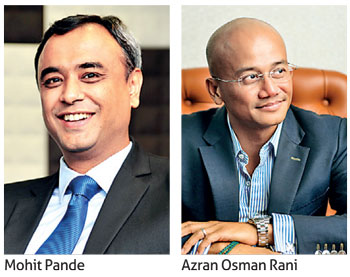 This year's discussions are underpinned by the wider concept of technology and business innovation: how organisations are adopting digital business models to be agile in the ever changing macro environment seizing opportunities with the rising Asian Century to create value for their stakeholders.
The forum would also address pressing issues such as climate change, how corporates need to take its share of responsibility and take preventive measures rather than act after disaster strikes. In keeping with this thematic overview, the keynote will be delivered by Google Cloud Country Head India Mohit Pande on Google's continuing journey on disrupting traditional business models. Pande currently leads Google's business for Cloud in India and has extensive experience in the technology industry in India and Southeast Asia. A live-demo on the impact of artificial intelligence on business models aired by Google will be one of the highlights of the event.

This is the first public forum in Sri Lanka where CIMA has invited a top executive from one of the world's most valuable brands, Google (estimated to be over US $ 100 billion), to create awareness amongst Sri Lanka's C-Suite executives on the need for organisational agility in a business environment defined by increasing competition and technological transformation.

Continuing with the topic of technological disruption, another key presentation at this year's summit will be delivered by Azran Osman Rani of iflix Malaysia, a disruptive Internet television video-on-demand subscription service, which was launched in May 2015 and now operates across Southeast Asia.

Prior to his iflix stint, Azran was the founder CEO of AirAsia X, world's pioneer budget long-haul airline. With his immense experience in leading businesses from start-ups to IPO, Azran will share his insights on cultivating a global mindset for organisational success and how Asia's emergence as an economic power presents new opportunities organisations can take advantage of.

The second half of the summit will shine the spotlight on Sri Lanka's foray into adopting digital business practices, sustainable development and the way forward for the country's economy. These discussions will focus on how Sri Lanka can avoid the middle-income trap, capitalize on shifting geo-political realities and formulate an export/investment strategy that creates long-term growth.

Digitalization of the country's banking industry, the use of drones in the agricultural sector and recalibrating corporate strategies which take into account the effects of climate change and sustainability complete this year's thought leadership agenda for the summit.

The highly popular and well attended CIMA Business Leaders Summit will be held from 9:00 a.m. onwards at Cinnamon Grand, Colombo. Interested participants are encouraged to contact the CIMA Colombo office on 0112503880 (Ext. 260) or email [email protected] for more information.