---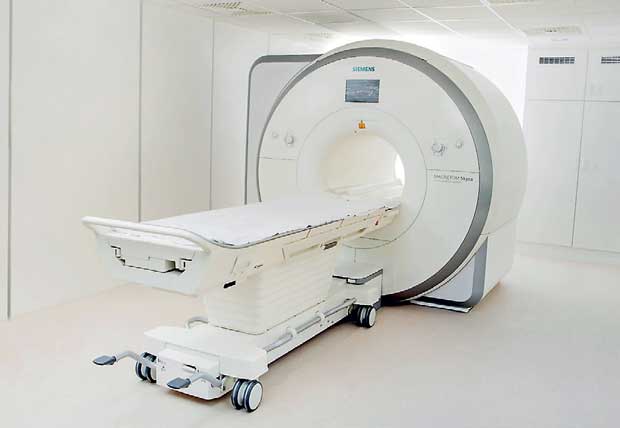 Lanka Hospitals PLC announced the launch of the state-of-the-art new 3 Tesla MRI scanner, an advanced technology which can project accurate imaging for a variety of medical specialties.
The all-new 3 Tesla MRI, now available for patients at Lanka Hospitals, gives patients the comfort of shorter scan times, broader tunnel to ease claustrophobia, less noise, high image quality and accurate diagnoses.
"The new 3T scanner is equipped with advance dedicated coils and programmes for advanced neuro imaging, plaque studies, cardiac MRI and functional MRI and whole-body diffusion weighted imaging," said Consultant Radiologist Dr. Eranga Perera.
Dr. Perera also added that the scanner is also equipped with a dockable table, a first in the country's healthcare industry, where the MRI table can be transported to transit trauma patients straight from the ambulance to the MRI suite.
"We, at Lanka Hospitals, strive at all times to align with the strategies of the government of Sri Lanka in promoting medical tourism and elevating the country as the medical hub of the Asia Pacific region. The commissioning of highly advanced technologies such as the 3 Tesla MRI contributes to this nationalistic vision," stated Group Chief Executive Officer Dr. Prasad Medawatte.
Lanka Hospitals Radiology and Imaging Department also introduced a new facility for critical and paediatric patients, where they can undergo MRI imaging under anaesthesia.
The team of in-house consultant radiologists and visiting consultant radiologists of Lanka Hospitals are available around the clock, for quick reporting within a day.
"Lanka Hospitals is looking at the internationally recognized business cum philanthropic concept of 'target the poor'. Prof. Muhammad Yunus's Grameen Bank of Bangladesh, Ratan Tata's Nano car of India and similar financial schemes of Wallmart of the Western World are such examples that show us that targeting the low-income groups of any country can not only bring in rewards but also help those people who cannot afford them at the present time. Our task right now is to work towards the possibility of making the new MRI service available to lower income customers in addition to our established clients," Chairman Dr. Sarath Paranavitane said, addressing the gathering at the launch event.