---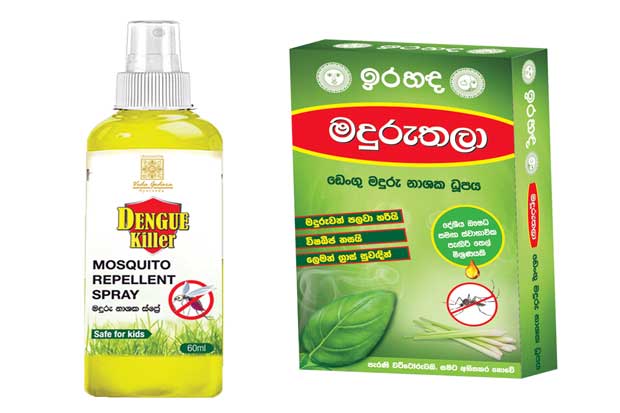 Two fine solutions to provide protection from the dengue epidemic that has hit hard Sri Lanka bringing about the highest death rate recently, have been introduced to the market by Irahanda Weda Gedara.
'Dengue Killer' spray consisting of essence of 'Pangiri' and 'Sera' can be purchased from the island wide super markets now. As many current mosquito repellent lotions are chemical-based, they tend to cause skin cancer. Enriched with a pleasant fragrance of sera, Dengue Killer based on natural essence of sera and pangiri has been introduced to by Irahanda Weda Gedara which has secured the customers' trust for many decades in order to impose a practical remedy on such a harmful factor. Apart from its major function of overthrowing the threat of mosquitoes, Dengue Killer avails itself of its capacity to destroy germs.

'Maduruthala Dhoopa', the anti-mosquito product is the second solution invented by Irahanda family to prevent one from facing the dengue catastrophe. Maduruthala Dhoopa, designed to attack mosquitoes, is manufactured using 'Heen Maduruthala' which is known as 'Thulsi' in India and which was used to repel mosquitoes by the traditional Sri Lankans for generations. It can banish not only dengue, but also all other mosquitoes. This is a plant dedicated in the name of the god, and the daily use will dismiss all the harmful effects inside the house. As the anti-mosquito Maduruthala Dhoopa is solely produced with leaves of 'Heen Maduruthala', it contains no poisoning on the human body. Therefore, it can be safely applied even in a context involving children without any risk unlike other mosquito coils found in general market.