---

Everyone believes that the International Monetary Fund (IMF) is the only solution to overcome the prevailing economic crisis in Sri Lanka. But we can also obtain the assets stolen by politicians with the help of the IMF. Do we need IMF reimbursements in such a situation? This is what Rusirupala Tennakoon- who held the post of Chairman at both Bank of Ceylon and the National Gem and Jewellery Authority- had to say in this regard during an interview with the Daily Mirror.

Excerpts:
Q What is the purpose of Sri Lanka dealing with the IMF?
Today everyone talks about the IMF. It is not a new subject to us. We obtained IMF assistance for the first time when Dr. N. M. Perera was the Finance Minister. So far we have obtained its assistance on 16 occasions. The last time we received IMF aid was in 2016 when we obtained 1.5 billion US$ under the Extended Fund Facility (EFF). It was released as tranches, and we only received 1.3 billion US$. We did not get the remaining 200 million US$. They have not given reasons for that yet. But we can assume that the remaining 200 million US$ wasn't released because Sri Lanka failed to implement the conditions laid out by the IMF.

Q Is it for the same reason that the IMF has set out conditions again? There is an attempt to privatise state institutions, impose a Social Security Contribution Levy and a 30% tax on exports. Does the IMF first set out conditions before releasing funds?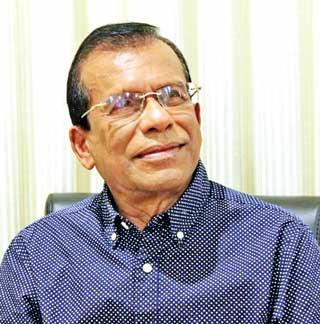 If we study this properly, the reason why we are applying for a loan at present is the same as in 2016. Four conditions were laid out in 2016 and they are the same four conditions laid out at present. However, our situation is more critical than in 2016. Today we are applying for its aid as a bankrupt country which failed to pay back our loans. That is the difference. Today the IMF views our country not as a country with a fallen economy but as a bankrupt country which has no means of repaying its loans. It isn't surprising that the IMF has laid out conditions.

Q How will these conditions affect Sri Lanka which is experiencing an economic downfall?
We should not worry about these conditions. The main reason for such conditions is the inability of our political authorities to control their own activities properly. The IMF has not laid out any new conditions. They are saying that the situation of state banks, CEB, CEYPETCO, SriLankan Airlines is not favourable and asking us to fix them. If we have the means to fix these institutions, we do not need IMF support. IMF conditions are about making us do things we are unwilling to do.

Q There is talk about a downfall of state banks. How will they affect the IMF conditions?
The IMF aid at the moment is a blessing in disguise because the IMF can make us do things we will not do. For instance, in 1992 Finance Minister D. B. Wijetunga said in Parliament that state banks had gone bankrupt. I was the Chairman of the BOC Trade Union and we reiterated that banks hadn't collapsed or gone bankrupt, but the mismanagement of the administration is to blame for all that. The World Bank audited the People's Bank and BOC through two international audit firms and revealed the truth. The audit report indicated factors which were not revealed until then. According to the report, the liquidity of the banks was shrinking.

Q Is it the same situation now?
At present, the risk is even more. If we can get back on track with IMF assistance, it will help the country grow.

Q There was a clash between a state bank and CEYPETCO. Was this created because of the IMF intervention?
That didn't happen because of the IMF intervention. That is an internal issue. The CEYPETCO owing to its financial crisis obtained a bank draft and a loan facility from a state bank. This loan remains the same and the interest keeps growing. That interest is shown as a profit in the bank reserves. The bank could maintain those accounts as active accounts because filling stations kept making deposits to obtain fuel even though the loans obtained were not paid off. When CEYPETCO asks not to make deposits in that bank those accounts cease to be active. The bank has no way to obtain the money and in six months those accounts will become dormant.

Q Will this have a serious impact on the economy?
Yes, it will have an impact, not only on the economy but also on the banking system. As a result, banks will no longer be able to consider loans as assets and loans will become liabilities. Unpaid loans which become liabilities are indicated on the other side of the balance sheet. If a large sum of money is credited to an inactive account, the bank will see a huge economic downfall. If this continued, state banks would be in dire situations.

Q Why do authorities maintain silence in the face of a serious downfall in state institutions?
From cabinet-level authorities to finance ministry officials none of them seems to focus on this situation and it is quite tragic. Everything has piled up.

Q Will the situation get worse by December?
We don't seem to have a target. We do not require IMF assistance for a long-term adjustment. At present we need money to buy food. Honestly today we have no food. In such a situation we do not need a long-term programme. This does not have space for adjustments. The way we requested for IMF aid is wrong.

Q Should we then request a loan under the Rapid Financing Instrument (RFI)?
We have to apply for an IMF loan under the RFI. That method is similar to providing oxygen to a patient. We need to correct the balance of payments. But instead, we are trying to give the patient soup. Then it becomes difficult. We have applied for a loan under the Extended Fund Facility. I do not know why the authorities who had discussions with the IMF didn't pay attention to this area.

Q Can the IMF recover the assets stolen by politicians? Not a single authority is interested in talking about that aspect.
Nobody talks about this aspect. The IMF is considered a trap, laying out conditions, restricting our freedom and creating problems concerning our future. But the IMF has one condition. It is an international organisation under the United Nations. The UN has more organisations which are interconnected. There is an international organisation which helps find stolen assets. IMF is engaged with this organisation and it is bound to provide legal support for any government under its policy framework. But we have not sought that support from the IMF. We talk about those who looted public money but why have we not requested to get back our looted assets?

Q If we can get back stolen assets, do we need the IMF aid?
There is a huge sum to recover. When calculating the funds spent on development and obtained as loans, a considerable percentage has gone missing. These funds were not spent on development. We believe they were stolen, deposited in foreign banks and laundered. They have to be somewhere.

Q Can they be recovered?
If we can get IMF support for that, I guess starving for a few days should not become an issue.

Q Will that help protesters succeed in meeting one of their demands?
Protesters talked about this aspect in the language they understand. This has a deeper meaning than that. We need to appreciate them for standing up against corruption and fraud as much as their level of knowledge allowed them to. Now we need to nourish them with knowledge.

Q Do we need to give long-term tax reliefs to attract investors? We saw that being talked about recently in the Financial Committee.
There cannot be such a strain between tax reliefs and investments. Investors know how to maintain their businesses subject to tax limits of a country. International trade organisations are much developed. It only takes less than a second to send money from America. What's important is not tax relief, but the environment. Political stability, absence of corruption, and law and order are far more important than tax reliefs. Investors do not come looking for tax relief. They know how to manage their businesses while being subject to taxes payable. We need to have more facilities to attract investors. Today we will have to obtain loans. The problem we have today is that we are adding up to the debts that need to be repaid and we are not moving towards a state of development where we never have to repay loans.