---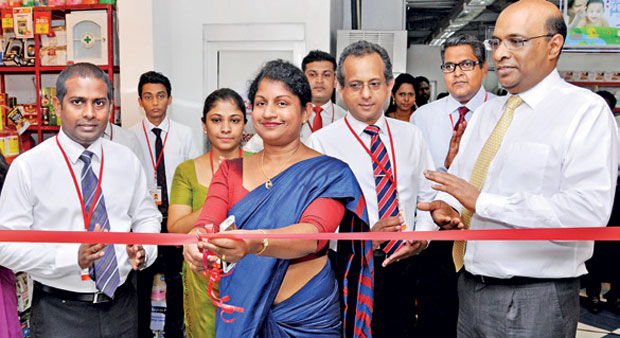 Divisional Secretary Wattala P.D.T.C. Rajika (centre) ceremonially opens the branch in the presence of (from left) Cargills Bank Wattala Branch Manager Aravinthan Arasaratnam, Cargills Bank Chief Operating Officer Rohan Muttiah, Cargills Bank Deputy General Manager Retail Banking Darshana Ratnayake and Cargills Bank Managing Director/CEO Prabhu Mathavan
Cargills Bank opened its new branch in Wattala recently. It is located at No: 315, Negombo Road, Wattala giving an opportunity to customers of Wattala to experience superior banking service and convenience.

The new Cargills Bank branch was declared open by the chief guest Wattala Divisional Secretary P.D.T.C. Rajika in the presence of Cargills Bank Joint Deputy Chairman Rajendra Theagarajah, Cargills Bank Managing Director/CEO Prabhu Mathavan, Cargills Bank Chief Operating Officer Rohan Muttiah, Cargills Bank Deputy General Manager Retail Banking Darshana Ratnayake, Cargills Bank Head of Retail Banking Buddhika Perera, Deputy General Manager Marketing Rumaiz Rahim and Cargills Bank Wattala Branch Manager Aravinthan Arasaratnam.

"We are pleased to open our new branch in Wattala and are glad to be able to offer our banking solutions to the people of Wattala and support the development of small businesses whilst bringing ultimate convenience in banking through longer banking hours and 365-day banking," said Mathavan.
He further added, "We intend to continue to grow our network and increase access to our banking services through various platforms. Our vision is to create value for our customers, support development and to be an inclusive bank making our banking products and services accessible to all Sri Lankans.

Cargills Bank is a full-fledged licensed commercial bank providing a comprehensive portfolio of products and services to support personal and business banking needs, which include current and savings accounts, foreign currency accounts, fixed deposits, advances and loans, trade services, treasury services and remittances.