---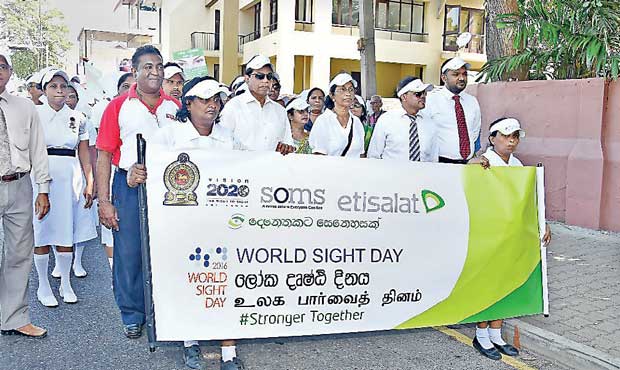 Walkathon from Viharamahadevi Park to Independence Square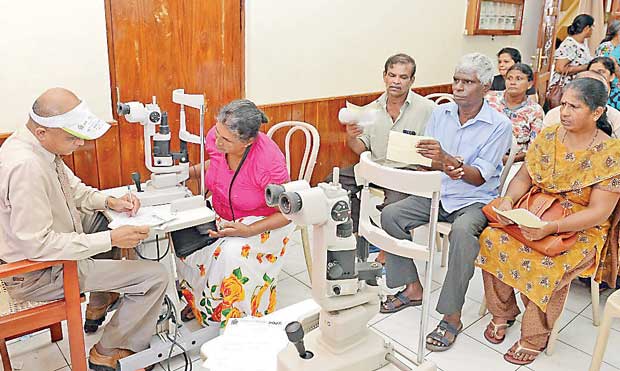 Eye care clinics conducted at the Pinwatte Maha Viharaya in Kalubowila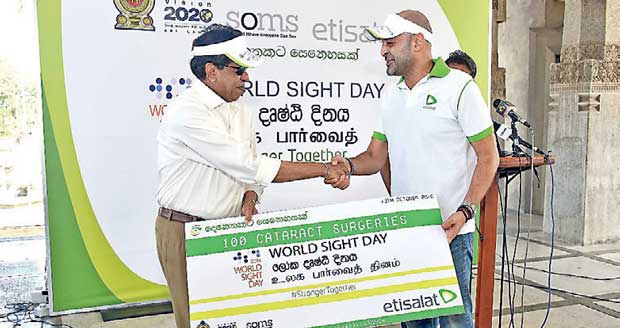 Chief Commercial Officer Etisalat Lanka Yasser Aboulamayem handing over a cheque for 100 cataract surgeries to Director General Health & National Focal Point of the Vision 2020 Programme Dr. P. G. Mahipala
Sri Lanka's Vision 2020 goal of eliminating avoidable blindness in Sri Lanka was supported through multiple initiatives on World Sight Day 2016.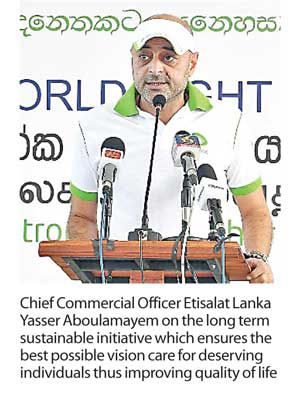 The drive is an initiative by the Ministry of Health in collaboration with So Others May See (SOMS) the College of Ophthalmologists of Sri Lanka and Etisalat Lanka.
This year's World Sight Day commemoration efforts began with awalkathon from Viharamahadevi Park to Independence Square.
The walkathon saw the participation of the Director General of Health and the National Focal Point of the Vision 2020 Programme Dr. P. G. Mahipala, Director of the National Eye Hospital Colombo Dr. M. L. S. N. Fernando, representatives from the College of Ophthalmologists of Sri Lanka, SOMS, Vision 2020 steering committee members, Etisalat Lanka and members of the general public.
Simultaneously a series of eye care clinics were conducted at the Pinwatte Maha Viharaya in Kalubowila. Eye tests were conducted to examine the public for visual disabilities with the objective of distributing free spectacles to those in need. Further screening and registrations took place for free cataract surgeries.
The day also showcased creative work by both amateur and professional photographers in Sri Lanka at the independence square, highlighting the impact of eye health in people's lives, under the theme 'Stronger Together'. The Annual World Sight Day is held on the second Thursday of every October to raise awareness on blindness and visual impairment, under Vision 2020, the National Programme for Prevention of Avoidable Blindness in Sri Lanka.
Sri Lanka has a population of 20 million out of which approximately over one million suffer from low vision. Of these, around 150,000 people are believed to be blind. Cataract Refractive errors, glaucoma, diabetic retinopathy and blindness in children are the main causes of blindness and vision impairment. Majority of the effected are blind due to cataract. Although the condition is commonly related to aging, cataract can develop at birth due to eye injuries and prolonged diseases.