---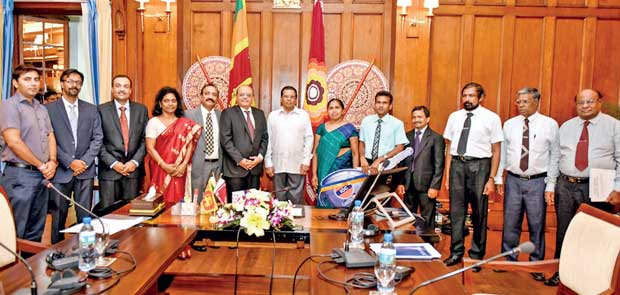 From left: Vice President Finance Raj Chowdhary, Senior Vice President Engineering Faizan Ahmad, Senior Vice President Finance Anuj Jain, Company Secretary Rajanie Balakrishnan, Senior Vice President Retail Sales and HR Dhananjay Srivastava, LIOC Managing Director Shyam Bohra, President Maithripala Sirisena, Dr. Pramitha Ratnayake, Dr. Anurasiri Jayasinghe, Senior Vice President Lubes B.B. Patra and Presidential Secretariat officials
Lanka IOC PLC under its banner 'We Care' donated an ambulance to Medirigiriya Base Hospital in the Polonnaruwa District recently.
The ambulance was handed over by President Maithripala Sirisena in the presence of the senior officials of Lanka IOC PLC at the Presidential Secretariat, Colombo.
Provincial Director Health Services Medirigiriya Dr. Pramitha Ratnayake along with Medical Superintendent Dr. Anurasiri Jayasinghe received the ambulance on behalf of the health authorities. Dr. Ratnayake stated that while the base hospital in Medirigiriya provides treatment for various illnesses, an urgent need has arisen to treat the chronic kidney disease (CKD) patients as the number of patients has increased in the recent past.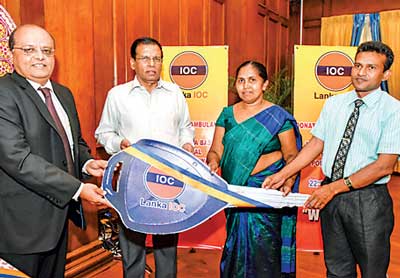 She further mentioned that the presence of this ambulance would ease their task in providing quick service to the critical patients not only from the hospital but also in the surrounding area – especially to transport the patients for dialysis treatment. She, on behalf of the health authorities, thanked Lanka IOC PLC for the donation of this ambulance to the Polonnaruwa District. Lanka IOC Managing Director Shyam Bohra in his brief speech at the event said, "As a socially responsible corporate citizen of Sri Lanka, Lanka IOC believes that profitable growth of a company depends on the economic, environmental and social sustainability of the communities across the island nation. Lanka IOC's corporate social responsibility (CSR) initiatives stem from this simple yet strong belief that the business of business should not be about money but also about responsibility. This is the third ambulance that Lanka IOC has donated to the people of this country – walking the talk 'We Care'.