---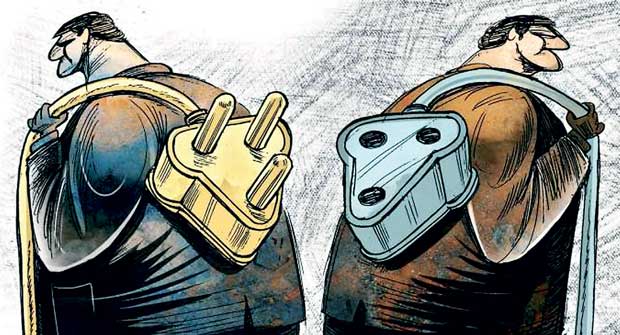 For decades before and after Sri Lanka's independence in 1948, India's relations with the island nation were political and adversarial. But since the second half of the 1990s, there has been a gradual shift to trade, development assistance and investment, in that order. While India has been wanting to build bridges with Lanka, veering from two decades of exclusive involvement with the intractable Tamil question, the latter has been exploring government-to-government economic tie-ups with India.
The ice was broken in the mid-1990s when an India-friendly Chandrika Kumaratunga became President on the promise of a rapprochement with Tamils (including the Liberation Tigers of Tamil Eelam (LTTE)) and also friendship with India, which had backed the Tamil demand for autonomy and imposed the India-Sri Lanka Accord in 1987 to bring it about. Quick negotiations led to the India–Sri Lanka Free Trade Agreement (ISLFTA) in 1999. What followed was a remarkable increase in bilateral trade, set to reach US $ 5 billion now.
Though the balance of trade is heavily in India's favour, Lanka's exports to India grew from a minuscule US $ 58 million in 2000 to over US $ 600 million in 2015-16, thanks to the agreement. India's exports to Lanka are much higher at US $ 4 billion, but 70 percent of it lies outside the FTA. India's assistance portfolio in Lanka is now nearly US $ 2.6 billion, out of which US $ 436 million is in the form of grants.
Even its loans are cheap coming at an interest of 1.75 percent. Taking the money spent and pledged together, India has extended to Lanka US $ 1 billion for rebuilding its decrepit railways. The 50,000 houses for war-affected Tamils and poor Indian-origin Tamils cost India US $ 270 million. Recently, India gave US $ 20 million for rainwater harvesting in the dry Northern Province; US $ 7.5 million was given for a free ambulance service.
Indian foreign direct investment (FDI) in Lanka totals over US $ 500 million. India has pledged to set up a 500 MW liquefied natural gas (LNG)-powered plant in Kerawalapitiya. Indian companies want to invest in the East Container Terminal at the Colombo Port and Trincomalee port hinterland development. Indian transshipment accounts for 70 percent of the earnings of the Colombo Port, which is sustaining the loss-making Chinese-built Hambantota port. However, India's economic engagement with Lanka has not been an unmixed blessing.
Fear of economic domination by the 'Big Brother' has replaced the earlier fear of political and military dominance. Sri Lankans argue that India's non-tariff barriers have greatly restricted their exports under the FTA. Fears of an influx of Indian professionals stopped the signing of the Comprehensive Economic Partnership Agreement at the last minute. Agitators are now threatening to scuttle the talks on the Economic and Technical Cooperation Agreement (ETCA) though India ruled out "movement of
natural persons".
"Trojan Horse of RAW"
Despite an assurance that almost all employees of the US $ 7.5 million Indian ambulance service would be Lankans, it was seen as a "Trojan Horse of RAW". India was disappointed when the 500 MW coal-fired power plant project in Sampur was called off after six years of talks. As a compensation for its ouster from Sampur, Colombo said India could set up an LNG-based 500 MW power plant in Kerawalapitya, but it is not known if the offer would stand in the months to come. In violation of an India-Sri Lanka 2003 agreement, Ceylon Petroleum Corporation (CPC) has been trying to take over three of the 99 oil tanks in Trincomalee given to Lanka Indian Oil Corporation (LIOC) for 35 years.
CPC says it needs the tanks to store diesel for use in power plants. LIOC is ready to provide the facilities as a joint project, but that is not acceptable to CPC. Late last month, the Parliamentary Committee on Public Enterprises threw a bombshell by saying that since LIOC had not signed the 'lease agreement' relating to the tanks within the stipulated six months, Lanka should take over all the 99 tanks. But LIOC's case is that the 2003 pact does not mention the need for a 'lease agreement', that LIOC has been paying the stipulated annual leasing fee of US $ 100,000 to the government regularly and that the local land records show that the owner of the land is LIOC. Two Indian firms, which were to lead an international consortium to build the Colombo Port's East Terminal (as per the wishes of the Lankan government), are now out in the cold because Lanka suddenly said the criteria would be revised.
Given the past experience with agreements, volatility of local politics and an underlying anti-India sentiment, India is reluctant to rush into the ETCA. Meanwhile, rumours that Lanka is going to ask India to develop the Trincomalee port to balance its deal with China vis-à-vis the Hambantota port led to spasms of anti-India barbs from the opposition and media. This is despite the Indian officials denying any interest in the port as it could be a non-performing asset like the US $ 1.4 billion Hambantota port. Animosity towards Indian government projects and aid programmes, with nary a word of thanks, vexed the Indian diplomats to such an extent that ex-Indian High Commissioner Y.K. Sinha publicly expressed his displeasure.
Lankan nationalists however justified their stand saying that India should consider its aid to Lanka not as charity but just reparations for the harm it did by promoting Tamil terror in the 1980s and then trying to 'divide' the country by promoting the Tamil demand for devolution
of powers.
However, there is a silver lining. Lankan hostility to India is restricted to Indian government projects, not the business ventures of India's private sector which are welcomed with open arms. Indian companies dominate the vehicles and pharmaceutical markets and Indians are the single largest contributors to tourism.
Courtesy The New India Express