---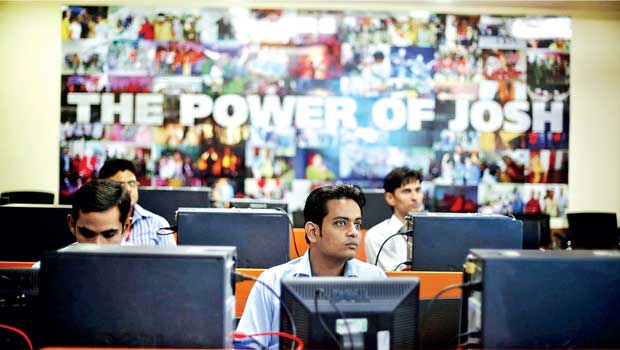 By Ranjit Goswami
For years, IT companies were the darling of Indian stock investors and fund managers. A constantly depreciating rupee since the 1990s until recently helped in the overall business scenario by allowing clients, largely in the United States, to reduce their IT budgets by offshoring work to India. But too much success can easily blind anyone — and the Indian IT sector is a glaring example of that.

India's IT sector has been working on a simple 'labour arbitrage' model, in which jobs move to India thanks to its low-cost labour and attractive business environment. For India, this model is based on the country's huge populations of young English speakers and engineering graduates with basic IT skills, though when those basic skills are missing at the low end, quality seldom matters, and on the job learning helps. As a result of it, Indian IT companies have always been working on this low-cost model, these IT companies have a huge entry level workforce but very few senior, capable managers with a vision for the future.

1990 Spring
The majority of India's IT companies sprung up in the 1990s or even later, a period marked by excessive fear in automated societies that planes would crash or banks would not be able to process transactions. Indian IT companies made the best use of that opportunity.

F. C. Kohli, often known as the father of the Indian IT industry and the founding CEO of India's largest IT services company Tata Consultancy Services (TCS), saw the profit to be made from India's low-cost model. Strong business processes and off-shore business models have helped Indian IT companies not only survive but thrive in the last four decades.

But much of that business environment has changed in today's ubiquitous Internet and mobile communication era. Even the Indian rupee has ceased depreciating rapidly. In 2017, it appreciated quite sharply against a weak dollar.

On 13 July, TCS came out with its first quarter result, followed by Infosys the next morning. Both their stocks closed in the red on 14 July, hugely underperforming the Indian market indices over the last year. India's IT sector is no longer the darling of the investor community.
Competing in the digital landscape with products and services is not easy. US President Donald Trump's 'America First' campaign has not helped either
Business model is broken?

The big question is whether the business model is broken. The answer is probably not yet. Both companies still maintain nearly 23 per cent profit margins. They operate on scales of hundreds of thousands of employees and on revenues of billions of dollars on a quarterly basis.

Competing in the digital landscape with products and services is not easy. US President Donald Trump's 'America First' campaign has not helped either. Increasing visa costs for onshore support employees and more local hiring, be it in the United States or in Europe — have increased costs, whereas demands have been muted due to the fundamental digital changes driving the business-automation landscape.

Simply put, against adverse business conditions, Indian IT companies have not been able to move up the value chain. This does not mean that the market at the low end of IT services is no longer there or even that it is shrinking. Global IT and consulting giants that foresaw India's big 'labour arbitrage' model have ramped up their presence and headcount. IBM has more employees in India than in the United States.

Adapting to new business environment
The last quarterly results of TCS and Infosys are part of a trend of underperformance that now stretches a few quarters, in contrast to their earlier streaks of year-on-year and quarter-on-quarter growth in revenue, profits and employees.

The companies are now trying to adapt to the new business environment from a technological point of view, as well as to the post-truth nationalism narrative represented by Brexit and Trump. TCS reported significant growth in its digital services business segment in its latest quarterly earnings. Infosys for the first time hired a professional to lead the company from Europe in 2014, though that transition has not been smooth in India's owner-manager business environment.

India needs huge numbers of new jobs, and IT companies did once create relatively high-quality, stable and formal jobs in India. Lately, that engine of job growth has faltered, with forced attrition becoming the buzzword among IT employees. Anand Mahindra, another respected industrialist in India, had to even apologise publicly when it was revealed how an employee of Tech Mahindra was asked to resign immediately with just a few hours' notice.

Joseph Schumpeter talked about creative destruction. In marketing, there is a concept of product and services cannibalisation. Indian IT companies never had to adopt these strategies as a survival choice due to fast growth and wide profit margins. But now the future looks less rosy. How quickly and how sincerely companies adapt to the new business environment will determine the relevance of Indian IT companies in the current and future world of apps and smartphones. (Courtesy East Asia Forum)
(Ranjit Goswami is taking up a new assignment as Professor at Sharda University)