---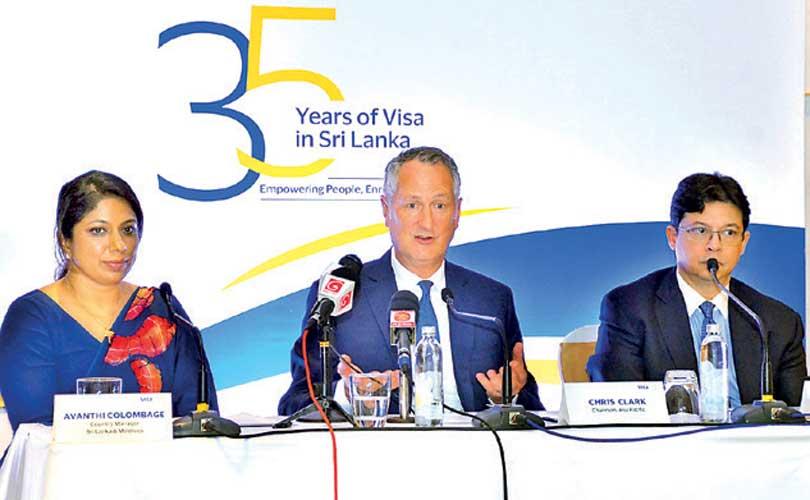 Visa Country Manager Sri Lanka and the Maldives Avanthi Colombage, Visa Chairman Asia Pacific Chris Clark and Visa Group Country Manager India and South Asia Regional Sales Sandeep Ghosh at a press conference in Colombo to mark 35 years of Visa in Sri Lanka
PIC BY WARUNA WANNIARACHCHI
"VGS will help government modernise its payment system, making it more secure, faster, easier but above all, it will help in bringing about transparency"- Visa Asia Pacific Chairman
VGS to enable Sri Lankan govt. to be more transparent in disbursement of funding and revenue collection by achieving clear digital channels
By Shabiya Ali Ahlam
Global digital payments leader Visa plans to launch its Visa Government Solutions (VGS) in Sri Lanka, to help improve the nation's payment infrastructure.
The VGS is expected to bring technologies to Sri Lanka, which will focus on transparency and the manner in which the government deals with its finances.

With the VGS, Visa aims to partner with the Sri Lankan government to modernise its payment systems. The solution will help Sri Lanka improve efficiency in making and receiving payments, reduce fraud and corruption and support the overarching goal of building a digitised economic framework.
"The VGS will help the government modernise its payment system, making it more secure, faster and easier but above all, it will help in bringing about transparency," said Visa Asia Pacific Chairman Chris Clark addressing a press conference in Colombo, yesterday.
"The solution will enable the Sri Lankan government to be more transparent in the disbursement of funding and revenue collection. This is achieved by establishing clear digital channels," he added.
The press briefing was held to mark the 35 years of operations of Visa in Sri Lanka.
When queried on the specifics, Visa officials said further details cannot be shared as yet, until the partnership is firmed up.
Speaking to Mirror Business on the sidelines of the conference, Clark said he would be meeting with several government officials during his two-day visit.
Visa Group Country Manager for India and South Asia Sandeep Ghosh noted that by introducing new solutions, Visa aims to further strengthen its relationship with the Sri Lankan government.
"By helping improve the government payment systems, we will continue to demonstrate our commitment to helping the nation's digital transformation agenda," said Ghosh.
Visa has been partnering with governments across the world for over 60 years to advance their economies and deliver a better future for citizens and businesses by transforming the way communities transact, commute and grow. Meanwhile, commenting on the 35-year milestone, Visa Country Manager for Sri Lanka and the Maldives Avanthi Colombage shared that the entity has consistently driven growth and financial inclusion over the years and remains committed to accelerating the country's digital transformation in the coming years.
"With continued support and guidance from the Government of Sri Lanka and Central Bank of Sri Lanka, we stand ready to play an expanded role in the nation's progress," she said.