---
"The industry needs revival. The industry needs confidence. The industry needs boosting and encouragement. Not to be put down and trampled. That is what has happened" – Hiran Cooray

Sri Lanka's crippled tourism sector that is struggling to stay afloat is "very disappointed" in the statement made by Finance Minister Basil Rajapaksa and feels "hammered down" by the government especially at a time when some stimulus is needed to revive from the global health crisis, Sri Lanka Tourism Advisory Committee President Hiran Cooray said.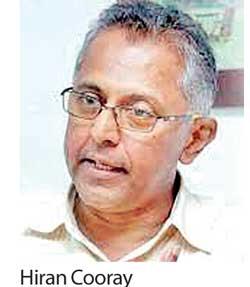 "I can say on behalf of the tourism industry, the industry people are very disappointed with the statement made by the Finance Minister, that when things got bad we came begging. There is a lot of hurt," said the industry expert.
Cooray presented his views on the Budget 2022 at a marketing forum held in Colombo earlier
this week.

Optimistic that the industry will be successful in accounting for about 10 percent of the GDP in the next five years, he expressed that the sentiments of the government towards the industry is not what was expected, especially at a time when it is struggling to
stay afloat.

"The industry needs revival. The industry needs confidence. The industry needs boosting and encouragement. Not to be put down and trampled. That is what has happened,"
said Cooray.
Stressing the need to move forward, he called on industry stakeholders to explore means to stand up on their own and not expect support.

He pointed out that some of the remittances entering the country are from hoteliers trained by the local tourism sector who have moved on to other parts of the world, mainly the Middle East and the Maldives, therefore the industry's contribution to the economy is not just the revenue generated within the island. "What happened is not very nice and it was really hurtful," reiterated Cooray, pointing out the need for the overall contribution of the industry to the national economy to be acknowledged.

Much to the shock of the tourism sector stakeholders, the industry was largely left out in the Budget 2022. Irking the industry further was Finance Minister Basil Rajapaksa's comments during and after the reading. The minister also stated that all the necessary relief has been given to the sector and the only relief needed is to ensure that the country is safe and healthy for tourists to visit without any fear. 2018 is considered the best year for Sri Lanka Tourism where the industry fetched revenue of US$ 4.4 billion and was the third largest contributor of foreign exchange to the country, accounting to 15 percent of the total national revenue. The momentum did not stay on due to the Easter Sunday deadly attack in 2019, which led revenue to contract to US$ 3.6 billion. The revenue position worsened in 2020, due to the global outbreak of the Covid-19 virus, where the industry managed to fetch revenues amounting to about US$ 956 million.(By Shabiya Ali Ahlam)