---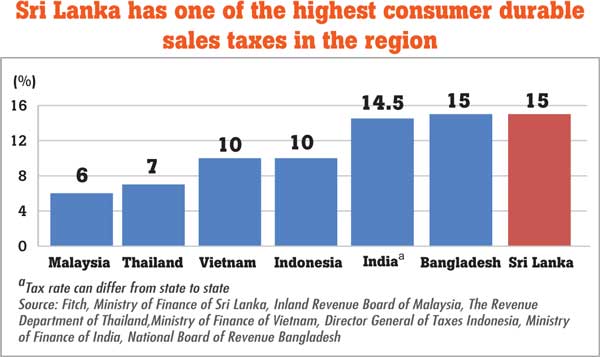 The demand for consumer durables in Sri Lanka is expected to be sluggish in 2017 and the industry players could also see pressure on their margins as the revenue mix could shift from high margin white goods to low margin IT and mobile phone segment, Fitch Ratings Lanka cautioned.
Fitch's rather gloomy industry outlook for 2017 is mainly underpinned by the higher interest rates due to tight fiscal and monetary conditions, particularly by way of higher indirect taxes which could undermine the people's ability to afford high value consumer durables.
"Rising interest rates, an increase in indirect taxes and currency deprecation which affects the prices of products sold by retailers could make consumer durables less affordable," Fitch said in its latest outlook for the industry
released yesterday.
Sri Lanka raised Value Added Tax (VAT) from 11 percent to 15 percent from November 1 and most consumer durables, if not all, are liable for VAT.
Fitch rates two of the three largest consumer durable retailers – Singer Sri Lanka PLC and Abans PLC which account for 60 to 70 percent of the total industry revenues.
Besides the above macro-headwinds, the prices of such goods could also increase due to weakening rupee as most consumer durable products are imported.
Fitch expects the Sri Lankan rupee to depreciate by a further 3.0 percent against the United States dollar by the end of 2017 as the government takes steps to strengthen its
external finances.
Further the recovery in oil prices could also increase the prices of these items as the prices of plastics – the largest raw materials for consumer durables – could go up in tandem with oil prices.
"The discretionary nature of consumer durables means that attempts to pass on these cost escalations could weaken demand," Fitch added.

However, the hire-purchase (HP) schemes pursued by these retailers in selling, specially these high value items could soften the pressure on the demand as repayment schemes could still make the goods affordable. "Interest rates – which have a direct impact on HP sales – have been on the rise, but Fitch does not expect rates to rise to the peak prior to 2014," the rating agency said but cautioned that if the rates peaked to levels prior to 2014 levels, it could lead to negative rating implications for the sector.
Despite the expected tougher market conditions, Fitch left the industry outlook unchanged at 'Stable'.
Meanwhile, the sector also could see pressure on their margins due to the shift seen in the sales mix from high value, high margin white goods to low value, low margin IT and mobile phones and the likes which has shorter replacement cycles.

Further these low priced IT and mobile phones are less susceptible to economic cycles and therefore support the top-lines of these firms.

However, the rating agency said the industry's long term fundamentals remain intact due to rising per capita income and growing middle income class in the country.