---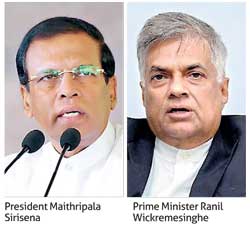 In celebration of The Board of Investment of Sri Lanka, the country's central facilitation point for investors, stepping into its 40th year, a ceremony was held at the Katunayake Export Processing Zone.

Graced by President, Maithripala Sirisena, Prime Minister, Ranil Wickremesinghe, Minister of Development Strategies and International Trade, Malik Samarawickrama and several key ministers, the event which was hosted by Chairman BOI, Dumindra Ratnayake and Director General, Duminda Ariyasinghe, was also well attended by significant members of the investment community, along with employees of the BOI and BOI companies, both past and present.

The proceedings commenced with the opening of the Exhibition Centre and the unveiling of a sculpture of former President J.R. Jayewardene.

Chairman BOI, Dumindra Ratnayake in his welcome address stressed on the BOI's contribution to the economic transformation of the country, while confirming the organization's continued commitment towards delivering on its mandate to be a driving force of the economy.

While both the President and Prime Minister addressed the gathering, a highlight of the celebrations was the distribution of awards to "Outstanding BOI Enterprises' by both the President and the Prime Minister. 40 such organizations were honored based on criteria such as investment value, employment generation and length of operation in Sri Lanka.

In addition to this, recognition of service, both of employees of BOI enterprises as well as BOI staff themselves took place with Malik Samarawickrama, Minister of Development Strategies and International Trade along with BOI Chairman, Dumindra Ratnayake and Director General, Duminda Ariyasinghe presenting the awards.

Since its establishment in 1978, the BOI has contributed immensely to the Sri Lankan economy, by means of enhanced export earnings, diversification of the export base, creation of employment opportunities, transfer of advanced technology and skills, local skills development, infrastructure development, rural development and poverty reduction. With 1,700 projects in commercial operation and providing almost half a million employment opportunities, The BOI remains a significant change agent in transforming Sri Lanka's economy from a largely agrarian base into the modernized, manufacturing and services based platform it is today.

Industries operating under the BOI contribute to over 70 percent of the country's total export earnings and for 85 percent of the national industrial export earnings.