---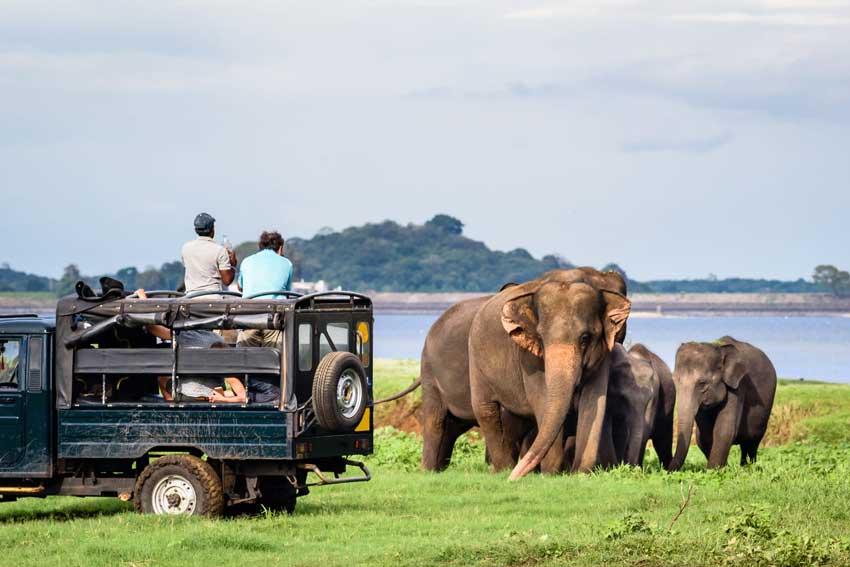 Programme to feature live footage of SL's most popular national parks
First phase to kick off from Nov. 4 to Nov. 13 featuring Minnerriya, Kaudulla, Udawalawe and Yala national parks
Sri Lanka Tourism yesterday announced the launch of a unique concept branded 'Go on a Couch Safari', an initiative taken to promote the island nation's tourism product amid the global travel restrictions.
Proposed transmission programme schedule
Day 1: Minneriya, 4th November 2.00PM (IST)
+ 5.30 GMT
Day 2: Minneriya, 5th November 2.00PM (IST)
+ 5.30 GMT
Day 3: Kaudulla, 8th November 2.00PM (IST)
+ 5.30 GMT
Day 4: Udawalawe, 9th November 7.00AM (IST) + 5.30 GMT
Day 5: Udawalawe, 10th November 3.00PM (IST) + 5.30 GMT
Day 6: Yala, 11th November 7.00AM (IST)
+ 5.30 GMT
Day 7: Yala, 12th November 7.00AM (IST)
+ 5.30 GMT
Day 8: Yala, 13th November 3.00PM (IST)
+ 5.30 GMT

The concept will feature live footage of Sri Lanka's wildlife from the country's most popular national parks.
The initial streaming will take place on November 4 where the Minneriya National park would be explored online by viewers across the globe.

The first stage of the project will go on till the November 13, and in addition to the Minneriya Park, scheduled to be featured are also Kaudulla, Udawalawe, and Yala national parks.

While Minneriya is home to the first recorded twin wild elephants, which has become a sensation among wildlife enthusiasts, Yala is popular for the highest density of leopards anywhere in the world.

Udawalawa National Park is best known for terrestrial big five elephants, leopards, sloth bears, water buffaloes, mugger and salt-water crocodiles, among other wildlife animals that roam free in their natural habitats.
Presenting Sri Lanka in a new angle is expected to draw the attention of thousands of potential wildlife travellers to the country in the near future.

Selected overseas viewers would stand a chance to win free holiday packages.

To ensure the success of the initiative, Sri Lanka Tourism Development Authority (SLTDA) Chairperson Kimarli Fernando called on all stakeholders and citizens to join hands to promote the event. Stressing that tourism is an industry that plays a critical role for the economy of Sri Lanka, Fernando said, "We need to be ready to bounce back quickly once the time is right. We will be introducing several crowd sourcing initiatives to amplify the message."

"This is an opportunity to showcase the amazing biodiversity of the island while maintaining the interest within the groups for Sri Lanka's Tourism," she added.

The SLTDA shared that the general public and institutions could extend their support to the new promotional initiative by sharing pre-event communication material published on social media and the live feed on their social media channels.