---
Declining margins, weak business volumes and loan moratoria weigh on revenues and profits
Says no additional impact on interest income during 2H of 2020 as all losses stemming from moratorium accounted for in 1Q
Sampath Bank PLC reported subdued performance for the three months ended June 30, 2020 (2Q20) as declining margins, moratoria and weak business volumes weighed on its revenues and profits.

The bank with a trillion rupee asset base provided relief to 50 percent of its total loans by way of moratoria causing significant loss of interest income during the three months, the bank said in an earnings release.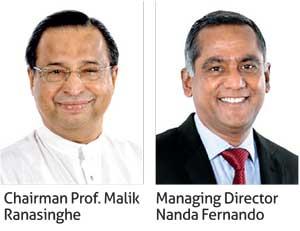 The bank reported a net interest income of Rs.8.1 billion for the quarter under review, down 21.3 percent from the comparable period last year.

"As the entire day one loss that arose due to COVID - 19 moratorium has been recorded during the period under review, Sampath Bank does not have to incur any additional impact on interest income during the 2H of 2020," the bank stated.

New loans accounted for only Rs.3.3 billion during the quarter under review compared to nearly Rs.25 billion in new loans granted during the corresponding quarter last year. The bank has a total loan book of Rs.747.7 billion.

However, new deposits soared by Rs.39.9 billion reflecting that individuals and firms which scaled down their spending during lockdown months had parked their money in bank accounts. During the three months toe nd- March 2020, the bank had Rs.30.7 billion in new deposits.

The heavy accumulation of customer deposits, which requires the bank to pay interest continuously amid slowdown in revenues from loans and other fee incomes due to moratoria and low business volumes, weighed on the margin and net interest income. The falling interest rates exacerbated margin pressure.

The net interest margin compressed further to 3.57 percent from 4.46 percent in December 2019 and 4.13 percent in March 2020.

The fee income fell by a heavy 34 percent to Rs.1.63 billion from Rs.2.47 billion in the comparable period in 2019, mainly due to the "decrease in credit-related fee and commission income consequent to the restrictions imposed to assist customers during this difficult period," the bank said.
However, the bank saw a surge in fee incomes from electronic channels due to people shifting to online banking and other payment applications for their banking needs during the lockdowns.

Sampath Bank provided Rs.2.85 billion for possible loan defaults, but this is less than the Rs.4.1 billion provided in the corresponding period in 2019.

Although the bank provided substantial credit loss on account of customers whose credit risk has significantly increased due to the pandemic, its general provisions were less, compared to the year earlier period due to the substantially high provisions made during the same period due to the Easter Sunday attacks in April 2019.

The bank's gross non-performing loans ratio further increased to 7.03 percent from 6.72 percent in March and 6.37 percent in December 2019.

The bank reported earnings of Rs.3.46 a share or Rs.1.32 billion for the quarter under review compared to Rs.6.95 a share or Rs.2.06 billion in the corresponding quarter in 2019. Fitch Ratings recently said Sampath Bank's earnings could suffer from rising loan impairments, narrowing interest margins, and moderate loan growth.

The bank's retail and SME segments, including mid-sized corporate, account for 75 percent of total loans by end-March, down from 88 percent in 2016, Fitch stated.

Vallibel One PLC, controlled by business magnate Dhammika Perera has 14.95 percent stake in Sampath Bank while Employees' Provident Fund has 9.97 percent stake as the second largest shareholder of the bank.