---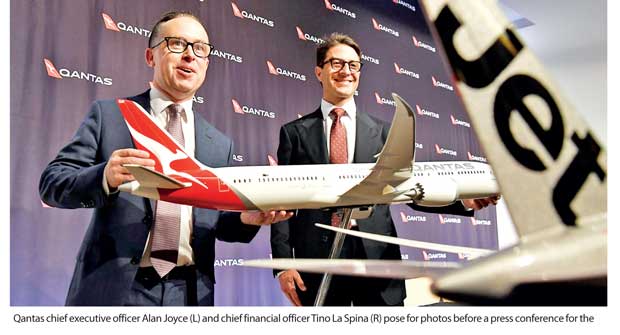 AFP: Australia's Qantas unveiled plans for the world's longest non-stop commercial flight yesterday, calling it the "last frontier of global aviation", as it posted healthy annual net profits on the back of a strong domestic market.

The firm, which hopes to fly non-stop from Australia to London and New York by 2022, announced a 17.2 percent slip in annual net profit of Aus$852 million (US$673 million) after record results last year.
The airline's underlying profit before tax its preferred measure was the second-highest in its history at Aus$1.4 billion in the year to June 30, matching forecasts.

The results came after the completion of an aggressive three-year restructuring process that saw it slash jobs and reduce its fleet.

"Three years ago, we started an ambitious turnaround programme to make the Qantas Group strong and profitable," chief executive Alan Joyce said.

"We tackled some difficult structural issues, became a lot more efficient and kept improving customer service. Today's announcements show this plan has well and truly paid off."
Shares in Qantas rose 3.10 percent to Aus$5.98 in Sydney on Friday.

Joyce unveiled ambitious plans for non-stop flights from Australia's eastern seaboard to Europe, a major undertaking the airline has dubbed "Project Sunrise".

"Qantas will challenge both Airbus and Boeing to deliver an aircraft capable of regularly flying direct services like Sydney to London, Brisbane to Paris, Melbourne to New York non-stop with a full payload by 2022," he said.

"This is the last frontier of global aviation, this is the antidote to the tyranny of distance and a revolution for air travel in Australia."

Joyce said the two manufacturers were working on planes that were almost capable of doing the job -- the 777X and the A350ULR. "We believe that advances on the next few years will close the gap," he added.

"This will be one of the most strategically important aircraft orders in the history of Qantas."

He said the non-stop flights would take up to four hours off the journey from Sydney to London, which is now just over 24 hours.

Currently, the longest non-stop commercial flight is Qatar Airways' Doha-Auckland service, covering a distance of 14,535 kilometres (9,032 miles) and with a flight time of more than 16 hours.

Qantas' planned Sydney-London flight would be about 17,000 kilometres.

The carrier's profits were supported by a strong showing in the local market, with the domestic arm reporting a record underlying profit of Aus$645 million, up 11.6 percent on the previous corresponding period.

Its international division slipped Aus$185 million, but still recorded its second-highest underlying profit at Aus$327 million.

"It (the results) benefited from an improvement in the rate of growth of capacity in the international markets, which is one of the most difficult parts of the Qantas business," CMC Markets' chief market analyst Ric Spooner told AFP.

"Overall, I think management is making a good fist of a difficult environment and they are continuing to produce the goods."

The airline declared a final dividend of seven cents and announced a share buyback of up to Aus$373 million.